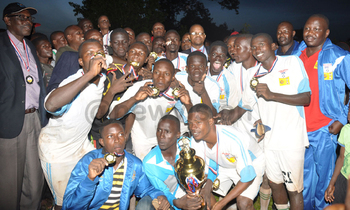 Hoima Municipality beat Kigorobya County 1-0 in the opening match of the Bunyoro Amasaza Cup played at the Sir Tito Winyi ground on Friday.
The late second-half strike from Edson Agondeze ensured maximum points for the hosts who were cheered on by a fair passionate crowd.
The opening match was graced by the Omukama of Bunyoro Kitara Kingdom Solomon Gafabusa Iguru. The tournament will be played over three weeks with the finals set for December 22.
The winners of this year's China National Oil Offshore Company's (CNOOC) Bunyoro's Amasaza Cup will on top of getting a trophy and a bull also walk away with sh1.5m cash.
This follows CNOOC's unveiling of a sh130m sponsorship before this year's 7th edition tournament at a function graced by the King of Bunyoro Kitara Kingdom Solomon Gafabusa Iguru at his Palace in Hoima on Friday.
CNOOC Head of Corporate Affairs Xin Zhang and vice president in charge of engineering Cui Yujun presented the cheque to excited county heads, who starting this year will be directly involved in the running and ensuring a successful tournament.
Addressing the media after, the kingdom's Prime Minister Andrew Byakutaga Atenyi said this year's championship will be contested for by 15 teams from each of the kingdom counties.
"We are grateful as a kingdom to see CNOOC continue investing in the kingdom's activities and for supporting this tournament for seven years which helps in the mobilization of the kingdom subjects and development of sports in the kingdom, so we are grateful to CNOOC," Byakutaga said.
He promised a better-organised tournament saying part of the money will cater for kit including jerseys, tracksuits, footballs, first aid kit, mobilization and team preparations.
Senior Public Relations Supervisor CNOOC Amina Bukenya said the sponsorship was aimed at developing talent and sports in the region.
"When we began operations in Bunyoro, we made a conscious commitment to be part of all round growth in our area of operation so sponsoring the Amasaza Cup for seven years is a demonstration of CNOOC's dedication to the growth of sport in this region. But we have also supported the education and health sectors both in Hoima and the rest of the country," Yujun stated.