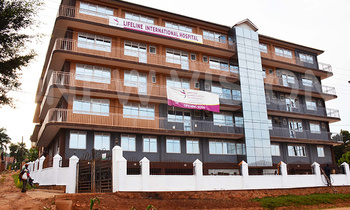 HEALTH|INVESTMENT

The Principal Makerere University College of Health Science, Prof. Charles Ibingira has decried lack of government support to local investors in Uganda.

During the dedication prayers for his newly built hospital, Ibingira noted that there are so many Ugandan investors who can make a difference in various sectors but are not supported by government.

"I have seen government giving free land, and tax holidays to foreign investors but ignoring us the locals. They have left us to struggle on our own. If I had been helped by government, I would have finished it in three years and it would be serving people," Ibingira said.

The Prof. has spent 10 years struggling to put up the hospital using his saving and earning.

Ibingira said many Ugandan investors have started several enterprises but collapse due to lack of support.

"Those who survive go through a lot of suffering. I have witnessed it," he said.

Ibingira shared his pain of trying to get loans from Uganda Development Bank and other commercial banks, which he said involved a lot of bureaucracies and delays.

"It was very depressing but I never gave up. I failed to secure loans but I said I have to do it on my own and here I'm ready to start offering quality health services to my people," Ibingira said.

At some point he got stack and had to sell his land in Lubowa to finish

Costing about shs15b, the hospital which is located in Zanna in Wakiso district will provide specialised treatment especially in surgery, which is Prof. Ibingira's area of expertise.

The hospital will have a main theatre, six operating rooms, an intensive care unit, a modern maternity ward, pharmacy, x-ray and private wards, among others.

"I'm a surgeon and I know there are few theatres in this country, so I wanted to have as many as possible to provide quality service," Ibingira said.

The hospital will also have a training school for nurses in order to build capacity to staff and provide training to students.

Speaking on the same function, the Chancellor Makerere University, Ezra Suruma commended Ibingira's innovativeness.

"Thank you, these are initiatives that will see Ugandans get better health services. This is a big contribution to the health sector," Suruma said.

The Hospital named Life Line International hospital is expected to begin operating effective December 1.