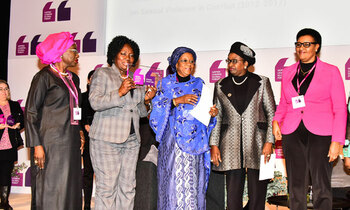 PIC: Kadaga displays the WPL Award given to the African Women Leaders Network, flanked by fellow Speakers of Parliament. (Courtesy photo)

WOMEN EMPOWERMENT

Speaker of Parliament Rebecca Kadaga has called on organizations advancing empowerment of women in Uganda to change the scope of outreach to their intended beneficiaries so as to effectively reach out and serve them.

The voices of the people they represent can be brought to light if their issues are listened to, she added.

"They should get out of the boardroom and go to the field, so that when they are advocating for issues, they speak from a point of knowledge," said Kadaga.

She said this after the award recognition of the African Women Leaders Network during the 2018 Women Leaders Global Forum held in Reykjavík, Iceland.

UN-based African Women Leaders Network, formed 18 months ago, was recognized for its work in solving conflict and bringing out the issues of disadvantaged women across the African continent.

Kadaga said the award is a "big honour" as the network was, among other things, instrumental in the release of hundreds of abducted Chibok girls in Nigeria.

During the forum in Reykjavik, President Marie-Louise Coleiro Preca of Malta steered a discussion on women inclusion and participation in corporate growth and technological entrepreneurship.

She, for instance, said the issue of maternity leave for corporate women had greatly influenced the gender pay gap in many countries around the world.

According to her, this is something that can be addressed by empowering corporate male parents to invest more time in their families.


African Women Leaders Network, to which Ugandan Speaker pf Parliament Rebecca Kadaga belongs, was recognised in Iceland. (Courtesy photo)


Meanwhile, Kadaga told delegates that some institutions and companies in Uganda fall short of respecting the rights of women at the workplace.

"Some institutions limit maternity leave for women, whereby if it is given, a woman has to choose between taking the leave and keeping her job. We need to change this standard in our institutions," she said.

Typically, men are accorded four days of paternity leave. Kadaga said this should be reviewed to allow fathers more time away from work to bond with their newly-born children.

On her part, Maltese leader Coleiro Preca said blockchain technology can boost entrepreneurship growth, "but it cannot solve the problems of women around the world if they are not educated on how to use it".

Governments should create visions for new technological horizons that can solve challenges related to business growth and promotion.

MasterCard vice-chair Ann Cairns said technology played a big role in promoting equity and inclusion of women in business growth, and that global corporations should regulate pay at their international business chains regardless of the laws of the countries in which they operate.

"There is a technology lab in Kenya that developed an application that helps women farmers to easily get market and sell their produce online other than using middlemen," she told the session.

But what are the obstacles?

Kadaga said that women in Uganda have easier access to information through improved technology, but cybercrime is a problem, and therefore has to be dealt with to protect users from loopholes that could be negatively exploited.

"From where they are, women have easy access to new trends, prices of commodities and what they can invest in, without moving around. But there have been instances of cyber abuse, which is something that needs to be regulated so that it does not negatively affect the ordinary person."

The forum brought together women leaders from all over the world, including presidents, Speakers of Parliament, MPs and chief executives.

During the meet, delegates typically discuss and share ideas and solutions on how to further advance society, increase equality between women and men and promote and positively develop the number of women in leadership positions.