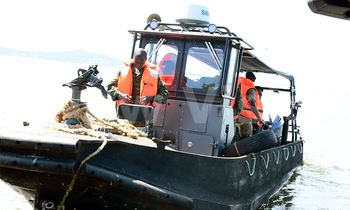 LAKE VICTORIA TRAGEDY

The deputy Inspector General of Police (IGP) Muzeyi Sabiiti joined the team working to remove the capsized boat from Lake Victoria on Thursday.

He joined AIGP Asuman Mugenyi and volunteers to remove the boat using ropes tied on graders.

More than 50 people who were on the ill-fated boat are believed to be still missing. The Police and UPDF marines, alongside volunteers, have retrieved 32 bodies so far.

As many as 26 people were rescued from the capsized boat.

The exact number of revellers on the boat, which flipped on Saturday about 200 metres from the shore, is not known yet. But witnesses estimate it to have been over 100.

Here are the pictures . . .


Muzeeyi (left) was briefed on the developments upon arrival at the beach
Before boading the cruise boat, the deputy IGP strapped on a life jacket