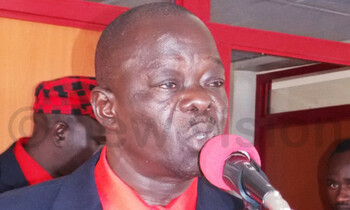 PIC: Lawrence Okae the UPC National Chairman
BOAT ACCIDENT
In the wake of last Sunday's Lake Victoria boat capsize tragedy, Uganda People's Congress (UPC) has tasked government to offer mandatory swimming skills to people who frequently use water bodies as an alternative route for transport.
The boat with an estimated number of over 120 partying revelers a board sank a short distance from the shore off Mutima beach in Mukono district.
With 32 bodies recovered and 26 people rescued, Police has since blamed the accident on overloading and bad weather.
President Yoweri Museveni who offered his condolences to the victims shortly after the tragedy announced that government will introduce a new electronic registration and tracking system for all boats in a bid to prevent such incidents.
However according to UPC, swimming skills would minimise on the number of people who die in boat accidents as people are able to swim to safety as they wait on rescue interventions.
While addressing journalists during the weekly party press conference at Uganda House, based headquarters in Kampala yesterday, UPC national chairman, Lawrence Okae noted;
As we console the bereaved families and friends in this trying moment, we need to draw some lessons from such incidents while bearing in mind that prevention is better than cure."
"Many of the deceased could have been rescued if they had basic skills in swimming," Okae said.
UPC warned against any compromise of the safety measures insisting that government should jealously guard against the life of its people.
According to the ministry of works and transport, between seven million and eight million people navigate on water between different landing sites coming to the mainland every year.
However the ministry admits safety concerns, with over 90% of the vessels on the waters of Uganda traditionally built by fishermen and with imperfections.
Okae said: "Passengers on either land or water transport, ought to strongly consider safety precautions such as use of approved life jackets, seat belts among others and they should be educated on how to use them in case of danger."
He warned against overloading and said a team of inspectors should always be ready to do their work to implement safety measures.
The party wants government to carry out audits on water and road accidents to effectively come up with mitigation measures.
UPC also demanded for reforms in the laws that regulate water transport sector to effectively address the legal gaps in addressing the outstanding challenges of the sector.
The laws governing water transport in Uganda included the Vessels Registration Act 1904 and the Inland Water Transport Control Act 1939.
Lake Victoria which is shared by the three East African Countries Uganda, Kenya and Tanzania has been the scene of multiple boat accidents in recent years.
More than 200 people died on the Lake last September when an overloaded ferry capsized near the Tanzanian coast.
Also related to this story
Boat tragedy: Wreckage retrieved, no body found
I tried not to get on that boat three times - Iryn Namubiru