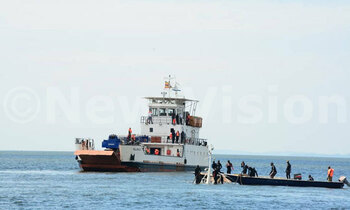 Efforts to retrieve capsized boat still ongoing. (Photos by Eddie Ssejoba)
BOAT ACCIDENT
A day after government declared Friday a day of national mourning to facilitate what First Deputy Prime Minister, Gen. (Rtd) Moses Ali described as " enabling Ugandans to condole with those grieving for the loss of their loved ones" in the Saturday boat accident, ministry of public service has said it will not be a public holiday.
Permanent secretary ministry of public service, Catherine Bitarikwate earlier today told New Vision in a telephone interview that flags will fly at half-mast throughout the country on Friday.
"We encourage places of worship to conduct prayers for the dead but there will be no public holiday," Bitarikwate said.
Half-mast or half-staff refers to a flag flying below the summit on a pole. In many countries this is seen as a symbol of respect, mourning, distress, or, in some cases, a salute.
The last time President yoweri Museveni ordered flags to fly at half-mast was in May after a bus accident in Kiryandongo district claimed scores of lives, in 2013 in honor of fallen anti-apartheid global icon, Nelson Mandela and earlier in October 2005, to mourn the demise of former President, Dr. Milton Obote.
The death toll from the Saturday accident on Lake Victoria has reached 32 with the minister of transport, Eng. Monica Ntege Azuba yesterday blaming the tragedy on the boat owner (who perished in the accident) and revelers flagrantly breaching the basic rules on maritime transport safety.
Among these rules, Azuba cited overloading of the rickety fish trawler-turned cruise boat and accepting to travel on a boat that was not seaworthy even after numerous warnings by police officers.
Also related to this story
Lake Victoria boat accident victim was 'a good swimmer'
Boat accident victims: Widows cautioned on property
Lake Victoria tragedy: Day three of search mission