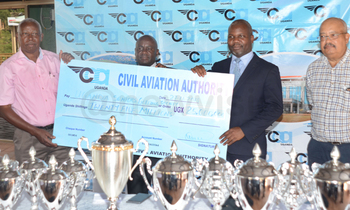 Over 200 golfers are expected to compete in this year's Seniors Golf Open to be played at the Uganda Golf Course, Kitante on December 1 to 2.

Addressing the press during the launch at Kitante on Tuesday, Uganda Seniors Golfing Society's (USGS) Secretary Godfrey Onyango said unlike in the previous editions where the winner was determined by the best gross score, they had this time opened it up to give more golfers chance of winning it.

He said being an Open tournament; it will attract players from all clubs in Uganda and also from member states of the East African community. He said the championship will go to the player that returns the best net score over the two rounds.

The fourth edition of the Civil Aviation Authority sponsored annual tournament was launched on Tuesday with a sh25m sponsorship from Civil Aviation Authority (CAA).
It will be played over 36 holes, December 1-2.

CAA Public Affairs manager, Vianney Luggya and Marketing and Commercial Services manager Tom Davis Wasswa presented a sh25m cheque to the Uganda Senior Golfing Society members led by Chairman Jackson Karyarugokwe at Kitante.

Luggya said the tournament was one their flagship events that is held within the celebration of the aviation week that is held annually worldwide between December 1-7.

"As Civil Aviation Authority we are pleased and proud to be associated with the seniors golfing society for the third year running. We have derived pleasure in sponsoring the USGS because we have always got value for money and because golfers are frequent fliers, it is part of our CSR and we thank them for the good relationship," Luggya stated.

In addition, Wasswa said golf was a game of the mind just like aviation which creates a close coloration and that being a tourism product that has golfers flying to different destinations to play, was the other rationale that they considered for sponsoring the event.

Karyarugokwe said they were doing everything possible to ensure a successful tournament for the senior golfers aged between 55 years and above and the rest of the other golfers who will play in the subsidiary event.

"We have various prizes to give out and I would like to thank CAA for their continued support to this event that is growing in stature," Onyango stated.

USGS treasurer Billy Patrick said apart from the prizes, golfers will be treated to sumptuous dinner and dance at the '19th hole' in the over sh40m sponsored event.