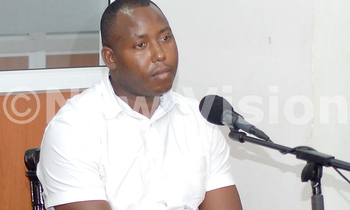 PIC: Former Land Police Protection Unit investigator Andrew Ainembabazi appearing before the land probe commission. (Credit: Denis Dibele)

INVESTIGATION

A Land Police Protection Unit (LPPU) detective assigned to investigate the controversy surrounding ownership of a chunk of land at Namavundu in Wakiso district claims lands ministry officials frustrated processes.

ASP Andrew Ainembabazi made the claims Friday at the land probe commission public hearing conducted at the National Records Centre in Kampala.

Probe chairperson Justice Catherine Bamugemereire had summoned him to explain his role in resolving the dispute.

Ainembabazi, 33, accused surveys and mapping department of declining to avail LPPU vital documents.

"The commissioner surveys and mappings frustrated our work in investigations," he said.

On November 10, retired senior government accountant Stanley Lwanga accused LPPU and Ainembabazi of bias.

Lwanga purported Ainembabazi favoured Peninah Busingye, popularly known as Mama Kisanja, in the dispute over a 70-acre chunk of land.

Both claim to have title for the land, with Busingye asserting she purchased 159 acres on Plot 1131 Block 185.

They both also claim to have bought land from the estate of the Kisosonkole estate, the maternal family of reigning Buganda monarch Ronald Muwenda Mutebi II.

On May 2, Lwanga petitioned the probe, alleging foul play. Documents show he purchased several pieces of land from the Kisosonkole siblings between 1999 and
2003.

He stated that when he demanded to see Busingye's documents, Ainembabazi instead threatened him with jail.


Land probe assistant lead counsel Andrew Odiit (right) interacts with Ainembabazi. (Credit: Denis Dibele)

Pressed by assistant lead counsel Andrew Odiit to explain what transpired, Ainembabazi said that Busingye's daughter, Natasha Kalenge, complained against Lwanga.

"Busingye had complained against Lwanga of fraudulent acquisition of a title over her title. When I got the documents, I realised they were not tallying," he told the probe.

"The area schedule I got from Wakiso and that produced by the complainant [Busingye] were not tallying. There were inconsistencies."

The detective said the chain of events transpired between February this year and the Easter holiday period.

Asked whether he visited the land, Ainembabazi replied that the fact-finding trip was conducted much later.

Ainembabazi's professional conduct queried

The probe's assistant lead counsel said evidence on records shows Ainembabazi deployed policemen to disrupt Lwanga's boundary opening, which gave leeway to Busingye to fence off the 159 acres.

The detective responded that Busingye was protected by military attire-clad armed personnel. He stated that he intervened after Busingye took advantage of the Easter holiday to fence off the land.

On her part, Bamugemereire said Ainembabazi aided the blocking of Lwanga's livestock accessing water and pasture.

"You acted very unprofessionally. You couldn't ask basic questions! In one month, you managed to cause change of the status quo on someone's land," she said.