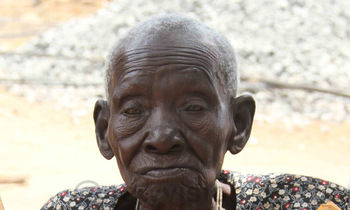 The woman who claims to be 130 years old in Dokolo and had previously failed to be registered for the Social Assistance Grants for Empowerment (SAGE) scheme under the expanding social protection programme has finally been registered.

This comes after New Vision broke the story last month on how Kelementina Akullo missed out on scheme in Dokolo district after failing to have a national identity card for her verification.

Kelementina was last Thursday picked from her home by National Registration Authority (NIRA) officials from Kampala and they helped her register at their offices in Dokolo town.

Akullo, a resident of Amuli cell in Dokolo Town Council claims that she had failed to register the national ID due to technical problems.
Mop up exercise

After realising that some of the elderly persons in 66 districts were likely to miss SAGE, the government of Uganda through the Ministry of Gender Labour and Social Development signed memorandum of understanding with the NIRA to start mop up registration.

The programmed was on Thursday launched in Dokolo district, one of the SAGE districts with over 5000 potential beneficiaries.

Simon Omoding, the communication advisor, expanding social protection programme in the Ministry of Gender, Labour and Social Development noted that enrolling Akullo shall not benefit her alone but also many older persons in different SAGE districts who did not get opportunity to register owing to different challenges like inability to reach NIRA office registration points and ill health, among others.

He said the ministry noted the challenges that Kelementina Akullo went through to benefit from senior citizen grant and lunch the registration from her own district though the elderly mop up registration exercise that will officially take off on the 1st December 2018 in 66 SAGE districts.

Leo Okwir Opige, Akullo grandson said she was born on the 5th August 1888 in Acanmac village and later married in Amuli cell, Dokolo town council.

Akullo told New Vision that this is the fifth time for NIRA to take her photo in a bid to register her.

She appealed to the Government to extend water and power to her home in order to make her life easier. She also thanked Vision Group for their effort that has made her known to the Government and the entire world.

The exercise left Duncan Ojambo, NIRA assistant registration officer with hard work of almost two hours taking Akullo's photos and scanning of finger print since the machine could not detect well her finger print and kept on indicating that it is of low quality and only six fingers out of ten were being scanned.

Difference in age thresholds

Omoding said the ministry has been studying different age thresholds to determine the one that is most appropriate for Uganda given the unique circumstances including financial instability.

At the moment, there are three different age thresholds in place :

65 years and above (and 60 in the case of Karamoja) during the pilot period (2010-2015) was considered in 15 pilot districts.

100 years for oldest persons per sub county was used in the first 25 of the 40 districts to roll out the senior citizens grant fiscal year 2015/16-2016/17

80 years and above- is being used in districts that are coming on board starting fiscal year 2018/19 going forward.

Voices

Ellina Otom, 70, noted with concern that she was unlikely to benefit from this programme because of extending the age from 65 to 80 years.

Kosantino Ocol said the issue of paying us from the Postbank should be revised since there is no branch in Dokolo district and bank process is long.

Christopher Odwee Otwak noted that coming to register Akullo in this exercise has shown that this NRM government recognized older persons .

Stella Adero said, we are happy that Akullo is now registered. Well-wishers should continue to help her and other elderly persons

RELATED TO THE STORY