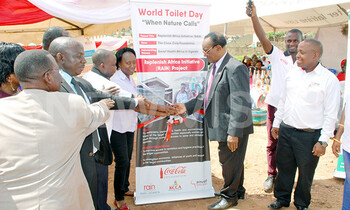 As part of the World Toilet Day commemoration activities, the health ministry commissioned a total of 30 toilets in Kawempe division in. They included: 18 pour flash and 12 Acqua privy toilets.

An acqua privy is a tank filled with water into which feaces fall through a drop pipe. Acqua privies use a simple water seal to prevent odour from getting out of the tank and have a soak away for disposal of sullage and effluent. Flashing is done manually by pouring water directly into the toilet pans.

A Pour flush pit latrine is a normal toilet, complete with water seal that discharges into a separately constructed pit, which isolates the pit from the superstructure.

Stephen Kayanja, the senior environmental health officer at the health ministry said, the toilets would greatly boost toilet coverage and curb the vice of open defecation as commonly termed as flying toilets in Kampala.

Kayanja was speaking during the commissioning exercise organised by Amref Health Africa in Uganda in partnership with the Coca-Cola Africa Foundation and Kampala Capital City Authority (KCCA) at Kawempe growers' grounds in Kawempe to mark the World Toilet Day under the theme, When nature calls, on Monday.

Kayanja urged the public to observe proper sanitation to avoid falling victims of poor sanitation related diseases.

"We need to go preventive because it is much cheaper to prevent cholera than treating a single case of cholera," Kayanja said.

Dr Patrick Kagurusi, the head of programmes at AMREF Health Africa in Uganda said, one of the key emphasis of the project is Sustainable Development Goal six (SDG6) which is to ensure access to water, sanitation and hygiene by everyone globally.

Karuguru said their target was to ensure that communities in Kawempe especially landlords who are hosting many tenants have high and efficient technology toilets to support the sanitation facilities in the division.

Ismail Ntale, the deputy mayor Kawempe division applauded AMREF for unveiling a new technology and said, the facility will improve sanitation in the division.

"Kawempe division being located in a wet land, majority of latrines cannot last a long time. So we have been encouraging people to build waterborne toilets but they cannot afford as they are expensive to construct," he said.

Ntale estimated toilet coverage to be in the ration of one stance to 30 adults while in schools, one stance serves about 58 students.

The toilets were constructed by Amref Health Africa in partnership with 30 landlords and Kampala Capital City Authority (KCCA) in a period of three months.

This was made possible with partial funding of sh109m from the Coca Cola Africa Foundation through the Replenish Africa initiative while the landlords contributed sh255m

The commissioned toilets were built in the areas of Nsoba Kyebando, Kikaya Ddungu Kisasi and Katale zone in Bwaise.

Global picture

Globally, about 4.5 billion individuals live without 'safe Sanitation' and over 892 million individuals around the World still do open defecation.

The Uganda Water and Environment Sector Performance Report 2017 indicates that 99% of the population in Kampala have access to some form of sanitation facility. The majority (90%) of the population relies on onsite sanitation, most of which is not classified as "improved" or "acceptable".

The same report reveals that over 50% of toilets are shared by multiple households, leading to unhygienic conditions.

Background to celebration

World Toilet Day (WTD) was established by the World Toilet Organization in 2001. Over time, it has grown in scope and received more attention.

In 2013, the united National (UN) passed a resolution recognizing World Toilet Day as an official UN internal day.

Toilets are a global development priority and the subject of sustainable development Goal Number six (SDG6). The target is to ensure everyone; everywhere has access to toilet by 2030.