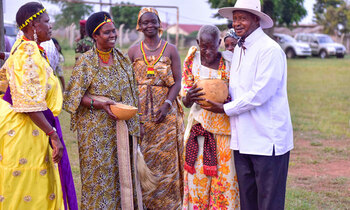 CULTURE FESTIVAL
President Yoweri Kaguta Museveni recieve a calabash as a gift from an elder as the Kumi LC5 Chairperson Christine Apolot, Teso Region Minister Akiror Engunyu among other leaders look on during the Teso Heritage Day celebrations at Kumi Municiple grounds , in Kumi Distrrict on Tuesday 20th November 2018.
President Yoweri Museveni joined the Itesot for the eighth Iteso Heritage Day celebrations, which kicked off in Kumi Municipality on Monday.
Jonathan Maraka the Deputy Spokesperson Iteso Cultural Union (ICU) said the President is expected to open the occasion Tuesday.

Over 500 delegates from Kenya, 300 from Tororo, Karamoja, Ethiopia and South Sudan have confirmed participation and they started arriving on Monday, according to Maraka who doubles as the deputy minister of information and documentation.
Maraka said several youth have been lined up for initiation into adulthood in a ceremony that will take place in Nyero Rock paintings on Wednesday.


As they celebrate their day, Iteso Paramount Chief, Augustine Lemukol Osuban on Monday asked his subjects (Iteso) to unite and forge ways of bringing development to the sub region.
The Iteso Heritage Day, which is observed has attracted Ateker group (Nilo Hamites) compromising the Turkana of Kenya, Toposa of South Sudan, Nyangatom of Ethiopia, Karimojong and Iteso of Uganda and Kenya.
This eighth edition of Iteso Heritage Festival is celebrated under the theme" Unity a key to peace and Development."

It is believed that Iteso left behind their brothers and sisters the Turkana, Toposa, Latuka and Nyangatom nearly 400 years ago during their southern migration from Abyssinia (Ethiopia).

It's from 2016 that Iteso started inviting their brothers and sisters from Ethiopia, Kenya and South Sudan since the Turkana were inviting them to their cultural events.
The event is showcasing various aspects of the Iteso culture. This includes language, music, dances, foods, drinks, dressing, beddings, traditional housing and farming tools among others according to Maraka.

The event that kicked off on Monday will be crowned on Thursday.