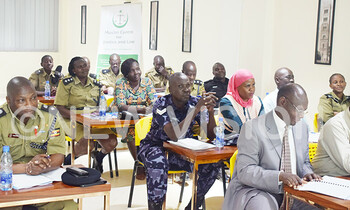 SECURITY


The Uganda Police Force is likely to include the Muslim law into the curriculum to make it mandatory for every police trainee to undergo Muslim law training.

Addressing police officers at a training at Hotel Africana on Saturday, Haruna Isabirye the Director Human Resource Development Uganda Police confirmed that they will include the Muslim law into their training and that the = police have already developed a training manual together with Muslim Centre for Justice and Law to help them in the police training schools.

"Most of the police officers have no idea about Muslim law but with this training, I am sure many of those around have benefited," Isabirye said.

Dr. Hafiz Walusimbi dean and lecturer at Islamic University in Uganda (IUIU) said the law provides for men to marry non-Muslim women but should be ready to handle whatever comes after, and as of Muslim women marrying non-Muslim men that law is not provided for.

"If Muslim men go to police that their women are eating pork and that they want to divorce them for it, police should tell the man that when he was marrying a non-Muslim, he was aware of all her behaviour but that's not a strong reason to cause divorce," Walusimbi said.

Sulaiman Kafeero, the monitoring and learning manager Muslim Center for Justice and Law said the training is to help police officers settle Muslim matters that have been challenging to them but also help the Muslim community attain reliable information from police.

"The information that people will be getting from police about the Muslim law will be the same information they will be getting from Muslim leaders," Sulaiman said.

The trained police officers were from four police training schools and these include: Police training school Ikafe in Yumbe district, Police senior command staff college Bwebajja in Wakiso district, Police Training school Olilimi in Katakwi district, and Child and family protection department of police.