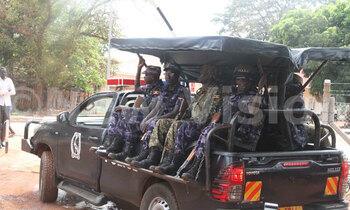 Police and the army have heavily deployed in Lira town to investigate the wave of crime where thugs raided and looted several shops.

The Minister of State for Defence Hon. Rtd. Col. Charles Okello Engola, visited the town (Lira) and called for calm.

Engola, told New Vision, that peace had been restored and shops re-opened.

During the violent protest on Saturday, shops were looted and goods stolen from dealers' trucks, as teargas and live bullets were fired by both the Police and the military to contain rioters who stormed streets in Lira town.

Five civilians are among several who were injured during the fracas.

On Sunday, the injured were airlifted aboard a military helicopter to Kampala for better healthcare.

Residents claim two men of Asian origin operating businesses in Lira allegedly strangled 11-year-old Dickens Okello to death and Police covered-up the murder, sparking the riots.

At least 30 people including the two men of Asian origin whose names were withheld, and linked to Okello's death, have been arrested in an operation commanded by the regional Police commander, Peter Nkulega.