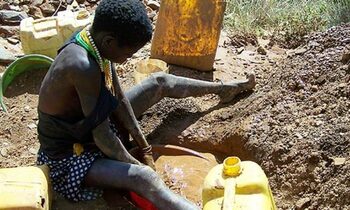 President Yoweri Museveni has ordered all illegal gold miners from the neigbouring countries like Congo and Tanzania to leave the gold mines in Mubende district and return to their countries.

Speaking during the Kassanda district youth day celebrations in Kikandwa trading centre, Kalwana sub-county on Friday, Museveni noted that he has information that there are foreigners mining gold illegally and asked them to leave immediately.

Museveni noted that Uganda is not a no man's land where anyone can go in and out to do anything without first of all having to seek permission.
Boys involved in gold mining
"Gold mines, forests, and all the other natural resources belong to Ugandans so you can't just go there and use them before getting license from government, which manages them on behalf of the people," he said.

Museveni made the remarks while responding to requests by Kassanda district interim chairman, Ziad Kalema, who wanted him to grant the illegal artisans, who were evicted from the gold mines in Mubende last year, permission to resume work.
Gold mine camp in Kitumbi sub-county in Mubende district
The over 10,000 illegal artisans were evicted on grounds that they were encroaching on the legal mining areas of AUC Mining Company Ltd that secured the mining rights in the gold rich enclave of Kitumbi sub-county in 2012.

AUC Mining (U) Ltd belongs to Gertrude Njuba, a former bush-war fighter and an employee at State House plus a one Moses Kubolikoza Masazi.

Museveni said the illegal miners were disrupting foreign gold miners, who have advanced mining capabilities they brought into the country through Njuba.

He noted that apart from disrupting the serious gold miners, the little gold which the illegal miners get is smuggled out of the country hence not benefiting them and the government.
The map showing location of Mubende

"That is why we are saying that leave the licensed gold miners to do their work and get the 'bread'; we shall later sit down and share it with all of you," Museveni said.

Earlier, during the function, Mubende district Woman MP, Benna Namugwanya told the President that the evicted miners needed sh800m to get licenses to resume mining gold in the area they were recently allocated.

Following the evictions of the illegal miners, in September last year, President Museveni met the miners and promised to allocate them a 10 square kilometre piece of land in the mining area to resettle them.
Evicted gold miners
In April, 2018, Museveni directed the sector minister, Irene Muloni, to allocate the federation of evicted illegal miners 30% of the mining rights.