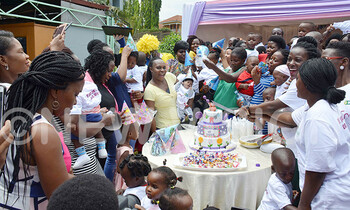 REPRODUCTIVE HEALTH

Doctor Victoria Nakibuuka, a neonatologist at Nsambya Hospital, expressed concern over the majority of premature babies that die owing to inadequate resources and poor health facilities in rural areas.

"Majority of the preterm babies in rural areas do not survive due to lack of access to proper medical care. At 37 weeks, a baby is considered full term but it is possible to lose it at that stage," she said.

Speaking at the commemoration of World Prematurity Day held at International Hospital Kampala (IHK), Nakibuuka said, intense advocacy is needed to create awareness about the dire situation of preterm mortality in rural areas.

She said 80% of the premature born in urban places are able to survive from the period of five months and above because of equipped neonatal facilities at hospitals like Nsambya, Mulago and IHK while uncountable preterm babies in rural areas do not live to see a second day on earth.

"The process of stabilising a premature baby requires a heavily equipped neonatal intensive care unit and a highly skilled medical team," Nabisaawe said.

Annually, 15 million babies are born preterm, accounting for one in every 10 babies produced worldwide. In Uganda the figures range between 13-14% preterm births however, it is on record that neonatal deaths contributes at least 50% of mortality rates among children below the age of five years.

When a preterm baby is born, it is a highly risk infant prone to any infection because of the compromised immunity and undeveloped antibodies.

A fully developed skin is one of the body systems that protect a human body from a number of infections. Skin produces fats from which a body generates heat. Among preterm babies, skins tend to be underdeveloped and therefore extreme coldness breeds infections.

Besides infections, premature babies also die of distress, bleeding in the brain and other related complications.

Nakibuuka advised preterm mothers not to give up on breastfeeding their babies and also urged mothers with excess breast milk to donate to premature babies as a way to save the lives of children whose mothers lack sufficient breast milk.

Breast milk contributes 90% of survival chances for a premature infant. It has essential nutrients that aid the growth of preterm babies.

"I get angry every time a premature mother refuses to breastfeed a baby. It is an offense because the baby's immunity is dependent on breast milk and formulas are likely to cause infections,"Nakibbuka said.

Recently, Nsambya Hospital organised a fundraising drive to collect money for purchasing a comprehensive milk bank. Once the milk bank is available, it will be responsible for screening donors, processing, pasteurising and dispensing the collected milk.

Preterm births are closely associated to health conditions such as; high blood pressure, abnormal placenta of the foetus, infections, drug abuse, which is dangerous for expecting mothers.

Dr. Shiba Nahurira from IHK explains that chances of preterm recurrence are high if a mother has chronic diseases such as; sickle cells and diabetes. However, it is important for any expectant mother to go for antenatal care so that health workers can identify causing conditions that are treatable.

World Prematurity Day

According to World Health Organisation (WHO), November 17 is celebrated every year to remember premature babies. World Prematurity Day is commemorated to raise awareness of the serious health crisis of preterm babies.

WHO defines premature birth as a very serious health problem. It is the leading cause of death in children under the age of five worldwide. Babies born too early may have more health issues than babies born on time, and may face long-term health problems that affect the brain, the lungs, hearing or vision.