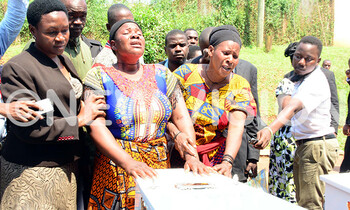 Teodola Aliganyira, mother of Remegius Tamale who died in a school fire is being consoled by State Minister for Primary Education, Rosemary Sseninde at the City Mortuary after she was handed the body of her son on November 15, 2018. Photos by Eddie Ssejjoba
FIRE|CRIME

At about 1: 00pm on Thursday, a fleet of nine funeral ambulances setoff from the City Mortuary in Mulago, Kampala to Rakai for final prayers and sendoff by students, teachers and parents.

They were carrying remains of nine students who perished in a night inferno while sleeping in their dormitory at St. Bernard's SS Manya in Rakai district. All the victims were Senior Three students who were sleeping after their evening preps.

The Police have arrested several suspects including students and teachers in connection with the November 12 fire, which claimed 11 students, nine of them burnt beyond recognition. Several other victims are still nursing wounds in various hospitals.

Several people gathered at the mortuary to witness the hand over, where the director for health in the Uganda Police Force, Dr Moses Byaruhanga handed over DNA results, postmortem report and the remains of the victims to the State Minister for Primary Education, Rosemary Sseninde.

Sseninde represented the First Lady and Minister for Education, Janet Museveni. The minister spoke to journalists and dispatched the caskets that were carried by A-Plus funeral coaches, which left in a convoy.

Peter Bisegerwa, the father of Remegius Tamale, a former Senior Three student who died in the fire and his mother, Teodola Aliganyira turned up with relatives to claim their body. After pleading with the minister not to take the body to Rakai first, the couple was cleared and instead were driven to Ssemuto in Luwero district in the funeral ambulance.

Aliganyira narrated that her son last talked to her on phone last Friday when he called asking for pocket money. But because she did not have any money, she asked him to instead call the father who lives in Kalangala.

Bisegerwa said he wired him sh10,000 through Mobile Money, which was for upkeep.

The sobbing mother said that in January this year, she decided to change Tamale's school, from Gayaza Vocation SS in Kyotera to Manya after she got information that they had improved their academic standards.

Dr Byaruhanga said all samples submitted to the Government Analytical Laboratory had matched with the nine samples that came from the field.

According to the postmortem report he gave the minister, the children died of dry heat and smoke (suffocation).

The minister who, on behalf of government, passed on condolences to the parents and entire school community said, it was really a sad story.

"We pray that the people who did this will be put to book," she said.

She said government initially contributed money to parents of the deceased students and pledged to pay the bills of the hospitalised students. They also offered to buy coffins and to transport the remains to their respective burial sites.


RELATED TO THE STORY