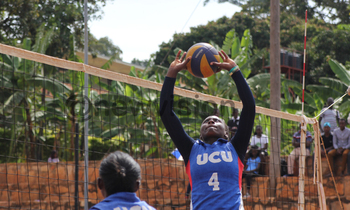 Aziz Damani National Volleyball League playoff finals

By Faith Kiai

Wednesday

Women

Nkumba A v Ndejje Elites 6pm

Men

UCU Doves v Nemostars 8pm

As the UCU Doves get set to take part in their first playoff finals against defending champions Nemostars, they have to be awake to the team they have defeated all season.

It's not a secret that after enjoying a rather fruitful regular season head to head over the Nemostars, they were knocked out in the semi-final playoffs by the same team.
This year, they meet in the final, but have they learned anything from last years' experience?

Definitely, because their coach is aware of his teams frailties starting from their slow start against the Ndejje Sharks.

Coach Nasson Bwesigye attributed his team's slow start in the semi-final playoffs to fatigue after the Sharks bullied them for the better part of two sets although UCU won the encounter 3-1 to qualify for the final.

"I must say the boys were fatigued because on Tuesday we did a lot of work. Before game two we didn't practice all we had was a team talk so they were more refreshed," Bwesigye said.

"I would say we have to ply our trade well. We weren't stretched by Ndejje so we have not got the best of ourselves," he explained.

For Bwesigye the best case scenario would have been the two (Sport-S and Nemostars) playing up to game three but like most champions Nemostars know how to win in clutch situations.

Team captain George Aporu believes if his team can reduce on the error count then they are in with a chance to defend their title.

"The things we need in order to beat UCU is confidence and the experience. First of all we have to limit our level of unforced errors. All the times we have played them we have made quite a number of unforced errors and going into the playoffs those are issues we tried to address," Aporu warned.

The two teams will face off from 8pm Tomorrow evening in a 3 match series.