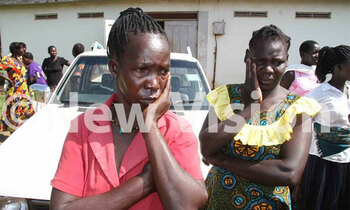 Eunice Ojuka (L), mother of the deceased child with another woman at the mortuary as they wait for post mortem to be done. (Picture by Hudson Apunyo)
CRIME
LANGO -A 11-year-old boy in Lango did not live to see his dream of being promoted to P4 come to pass after his life was brutally ended by two Indians who allegdly strangled him.
Two people belonging to the Asian community are being held at Kole Central Police station on allegations of killing a Primary three pupil of Alito Primary School in Kole district who was on his way back home from school together with his elder sibling.
The 11-year-old Dickens Okello, a primary three pupil of Alito Primary school is believed to have been strangled as his neck and spinal code were reportedly broken.
The incident happened near the country home of Dokolo Woman MP Cecilia Atim Ogwal in Alito, a short distance from Alito sub county headquarters. The case has been registered at Kole CPS under CRB 318/2018

The Indians who have been identified only as Franau and Madhav in their mid-20s reportedly found the two boys walking home from school at around 4pm and slowed down and tried to lure them with biscuit and money but the boys declined.
Franau and Madhav then offered to give the boys a lift, but the boys still declined.
One of the Indians is said to be the son of the proprietor of former Odokomit Ginnery in Lira town and Kobulobulo Ginnery in Kaberamaido district.

"We are still waiting for postmortem result and proceed from there," said Kole DPC Ahamed Musakana.
13-year-old survivor tell his side of the story
According to the 13-year-old Denis Ogwang, the survivor, the Indians stepped out of their tinted glass white double cabin pick and started chasing after them.
Luck wasn't on the side of the deceased, as he was trapped by barbed wire on the side of the road.
Denis Ogwang, 13, a P3 pupil of Alito Primary School demonstrates how the Indian held his younger brother and allegdly strangled him to death. (Picture by Hudson Apunyo)
The deceased then fell down and was roughed by one of the Indians who squeezed his neck, folded his legs to his neck and threw him at the road side as he cried for help.
"I saw foam and blood started coming from his mouth," said Ogwang.
Denis Ocen who was riding by the scene was stopped by Ogwang, who informed him that some Indians had killed his brother.
"The boy asked me look after his already dying brother as he ran home to inform his parents but I told him that we had go to police instead," Ocen said at Lira mortuary where the family had camped waiting for doctors to perform a postmortem.
Denis Ocen who arrived immediately after the Indian had allegedly killed the school boy. (Picture by Hudson Apunyo)
Ocen said the Officer in Charge of the police post Cadet ASP Julius Morece responded immediately and as they approached the scene, the Indians were also seen approaching, which prompted the Police to arrest them.

He said the police took the suspects to Alito police post but transferred them to Kole Central Police Station immediately.

Police from Kole arrived and took the lifeless body to Lira Regional Referral Hospital where it was confirmed dead.

Deceased's parents
The deceased's father Tom Ojuka, 52, said he was at a local market when he was called and told about the death of his son.
Tom Ojuka, 52, father of the deceased child allegedly killed by an Indian, seated at Lira Regional Referral Hospital mortuary waiting for post mortem to be done on his child. He is seated with his surviving child and two daughters. (Picture by Hudson Apunyo)
Ojuka said when he reached the scene, he found his son lying lifeless on the side of the road with several people at the scene.
"I met the Indians being taken to Kole but did not know that they had killed my son," he said.

The bereaved mother, Eunice Ojuka, a mother of eight with four already dead said she heard the incident over radio.

"I found the body still warm and thought there was still life and decided that he should be taken to hospital but he was declared dead on arrival," she said.

"My son was from school and was killed like chicken. I will request to see the Indian and ask what my son had done to him," she said.

Okello's mother had just paid exam fees for her son who had assured her that he would pass his examinations and b promoted to Primary four.

Kole Woman Member of Parliament, Judith Alyek who condemned the act of the Indians said that if these Indians have come to bring development in Lango, why do they engage in dubious acts?

Kole Woman MP Judith Alyek breaks down at the mortuary after looking at the lifeless body of the 11-year-old. (Picture by Hudson Apunyo)
"In India, we are not given equal hospitality the way we are giving these Indians," she said.

The MP said there has been several incidents where Indians are implicated in abusing Ugandans with impunity.

"They have been humiliating us, mistreating our people, exploiting our farmers in the name of doing businesses as if we don't have our own people to do business and bring development in Lango," she said.

Alyek also cited a case in which an Indian was accused of inserting red pepper in the anus of a casual worker and the case died a natural death, another case was when an Indian urinated on casual workers and said he was spraying cockroaches.
"Today, they have killed an innocent child and we have to take action and talk about this," she said.

Alyek also called on fellow MPs from Lango to sit down immediately and review what should be done to the Indians who are accused of violating the rights of the people of Lango.

Kole Woman MP Judith Alyek consoles the bereaved family at Lira Hospital mortuary. (Picture by Hudson Apunyo)
She however appealed to the people to remain calm.

The MP appealed to the government to check if the numerous Indians now living in Lira have work permits, amidst rumors that some are living and working in Lira illegally.

Dr. Richard Nam, the clan leader of Okii Amat, a clan where the deceased belonged said it was painful to see investors who are expected to develop and improve welfare of the population destroying the local people.
Prof. Dr. Richard Nam, the clan leader of Okii Amat clan where the deceased child belongs, speaks to his subjects at Lira Regional Referral Hospital mortuary soon after post mortem was done. (Picture by Hudson Apunyo)
"Investors should come in the name of peace. This innocent child was coming back from school, playing with the brother, if you are not inhuman, why do you go ahead to kill such a child?" he wondered.