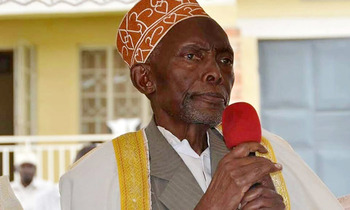 Sheikh Abdulnoor Kaduyu addressing Muslims. Photo/File

The former Mbarara district kadhi, Sheikh Abdulnoor Kaduyu, has died aged 88. Muhsin Nuwagaba, a son, told New Vision their father suffered cardiac arrest in the wee hours of Friday morning at his home in Kakoba Division, Mbarara Municipality.

Nuwagaba, the founder and team leader of Allied Muslim Youth Uganda said the Sheikh, who recently translated the Qur'an into Runyankore dialect, died while being rushed to hospital at around 5:30am.

"From Allah (God) we came and to Him we shall return. May Allah be pleased with your soul my dear Dad. May Allah grant you Jannah (Paradise). I thank Allah for the years he has given him to us," he posted on his Facebook page.

Sheikh Kaduyu is survived by a widow and over 20 children. He will be laid to rest in Rwentuha, Bushenyi district tomorrow at 2pm.

Kaduyu recently said the translation of the Muslim holy book was necessary to simplify the message for the faithful who do not understand the Arabic language.

"We have had a lot of challenges regarding the translation of the Qur'an because most of our people do not know Arabic. Therefore, I decided to simplify it for those who speak Runyankore for easy understanding of the message," Kaduyu told New Vision in July.

There are 114 chapters in the Qur'an, which is written in the old Arabic dialect. At the time of Kaduyu's death, he was looking for money to print copies of the Runyankole version for distribution to Muslims for proper understanding of the Islamic laws and principles.

Translations of the Qur'an exist in over 40 languages but Muslims are still taught to learn and recite it in Arabic, even if this is not their native language and they cannot converse in it.

Translations are regarded by Muslims as new versions of the holy book, rather than as translations in the conventional sense.

Eulogized

According to Dr Anas Kalisa, the former vice-rector of the Islamic University in Uganda in Mbale, Kaduyu was an advocate of unity among Muslims in Uganda.

Kaassim Kayira, a former BBC employee, posted on his Facebook page, saying, "Death has occurred of one of the most revered Sheikhs in Uganda and especially in Ankole region. No way you could ever mention Islam and its trials and tribulations without mentioning Sheikh Kaduyu, may his soul rest in peace."

Kayira, who is currently working at Azam TV, added: "It is one life that I can attest has been lived to the full. May Allah forgive his shortcomings and grant him the ultimate aboard in paradise. Ameen."

Who was Kaduyu

Sheikh Abdu Noor Kaduyu was born in 1930 in Butare village, Bushenyi district. His father was late Asinani Lwabugabwa while late Hajat Asiyati Beijugumbya was his mother.

His uncle Ramadhan Kangwomunda Byaribasika was among the first people in the then Igara county to embrace Islam and later inspired Kaduyu's father Lwabugabwa to join Islam.

In 1958, Kaduyu was elected Igara county sheikh and confirmed by the late Prince Badru Kakungulu.

In 1963, Kaduyu was ordained sheikh by the late Sheikh Swaib Ssemakula and hence became the first formally ordained sheikh in Ankole and Kigezi.

In 1964, Kakungulu appointed him deputy district Kadhi of Ankole and Kigezi Muslim districts.

In 1967, he was appointed substantive district Kadhi of Ankole and Kigezi.

He was among the first members of the Uganda Muslim Supreme Council general assembly following its establishment in 1972 and participated in the drafting of the UMSC constitution.

When Kigezi acquired Muslim district status, Kaduyu became the Ankole district Kadhi and later headed the Mbarara Muslim district.

Initially, Ankole and Kigezi was one Muslim district but it is currently split into seven Muslim districts: Bushenyi, Rukungiri, Ntungamo, Ibanda, Kigezi, Kisoro and Mbarara. Kaduyu served as the district Kadhi from 1967 until 2010 when he voluntarily retired.

Kaduyu was involved in a number of Muslim development projects, including the construction of a number of mosques, most notable of which is Nyamitanga Mosque in Mbarara Municipality.

At the time of his death, he was involved in the construction of Madrasat Noor Primary School in Nyamitanga Division.