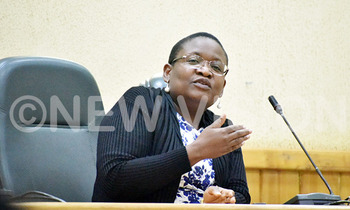 A group of Born-again Christians, Seventh Day Adventists and Anglicans have pushed for birth control interventions as a way of achieving vision 2040.

Speaking to religious leaders in a meeting organised by Inter-religious Council Uganda at Uganda Muslim Supreme council Kampala, Herbert Buyondo the bishop of Kampala Born-again faith, advised people to use birth control measures so that they can have children they are able to take care of.

Buyondo said those who use the Bible to speak against using birth control measures to produce fewer children are ignorant about the word of God.

"God created us in his own image and likeness and gave us knowledge to use, so you cannot say that God is happy with people who bear children that they cannot take care of," Buyondo said.

Buyondo noted that religious and elite pastors should not mislead their flock, but are supposed to show them the right path to take.

He said, as long as the egg is not fertilized, people can use all the birth control measures.

"We discourage abortion, and allow you to control child birth using any control methods like condoms, exclusive breast feeding, counting your safe days among other methods," Buyondo said.

Samuel Kizito, the pastor and director of Health/HIV/AIDS in the Seventh-day Adventist Church said, their faith encourages the use of contraceptives and are guided by their leaders in the US to produce four children or less but should not exceed four.

"God the father of the world produced only two people and that was Adam and Jesus. Those who say produce more are ignorant,"Kizito said.

Hajji Nsereko Mutumba, the spokesperson of Uganda Supreme Council said the Muslim faith is against the use of artificial birth control measures and allows the use of natural birth control measures.

He said they encourage Muslims to space and plan for their children so that they can have a manageable family.

"A woman can exclusively breast feed her baby to delay her next pregnancy as she plans on how to have the next one," Mutumba said.

Dr. Betty Kyadondo, the director of family health national council said Uganda's population is rising due to the large number of dependents that are not working.

The census report indicates that Uganda's population between the productive age of 14 and 64 is slightly over 18m.

With 58% of this population group unemployed, it means that Uganda's total non-utilised labour potential is 10.4m as of 2014.