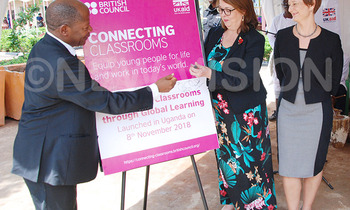 EDUCATION- The British Government has launched the fourth phase of the "Connect Classroom" (CC4) project to support 150 learning institutions.

The programme manager Education and Society at the British Council, Margaret Atim said CC4 focuses on three strands including; professional development which mainly focuses on classroom practices, policy development and partnerships.

The programme is to run for the next three years and will be funded by the British Council and Department for International Development (DFID). The entire programme will cost 38m pounds (about sh186b) in more than 30 countries.

"We look at how to better teaching. We are moving away from teacher centered to learner centered strategies. We shall be delivering in 150 schools where we will be looking at training 3750 teachers with 25 from each school," she noted.

The programme targets both secondary and primary schools, and vocational institutions since government is also leaning towards skills.

This was during the launch of the CC4 at the Kikaaya College Secondary School in Wakiso district, where the programme had been ongoing for the last three phases for the last 12 years.

Atim explained that in the previous phase, the programme targeted one head teacher and two teachers per school which was tricky, especially when teachers got transferred.

They are also focusing on partnerships to build the connection of schools in Uganda and those in the UK and how to use the relationships to better their standards and learning.

While launching the programme, the State Minister for Higher Education, John C. Muyingo said the programme is very timely, adding that this will help to change the methods of teaching in schools.

"The method of teaching that engages learners is what we want to help children thrive on in the world," he added.

He thanked the British Government for rolling out the programme, saying this would promote quality teaching and learning.

The deputy High Commissioner at the British High Commission, Angella Trott said, inclusive education is very key, if the country is to promote quality education.

She said her government will continue collaborating with Uganda to promote quality education.

The British Council Country Director, Fiona Inci said: "Connecting Classrooms" programme helps connect local schools with schools in the UK to support learning through exchange programmes and equip Ugandan teachers with new teaching approaches among others.

The head teacher Kikaaya, Charles Mubiru said, their partnership with Portsmouth Grammar in UK has elevated them to international level and improved their teaching methods.