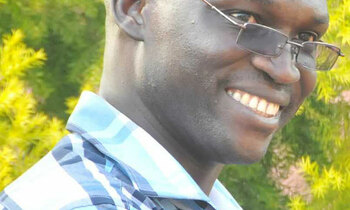 By Sidney Miria
Poverty has a face. When you see Rose Nakanwagi, poverty stares you right in the eye.
The dirty rugs her grandchildren wear are not a fashion statement, but a reflection of her actual reality.

The grandmother who claims to be 75 years old (as stated on her national identity card) is one of those people who have fallen through the cracks of development.

Although Nakanwagi lives about 20km away from Uganda's capital city, her world is at best remote and far removed from all the developments that are taking place in the city and its surrounding areas such as Manyangwa, the village where she lives. She lives on an island of desperation.

She probably has a counterpart like her somewhere in a remote part of China, but their circumstances and responsibilities are certainly different. The weight she carries is unquestionably not for a septuagenarian.

The man, she called her husband abandoned her decades ago. He had his eyes on other women and died relatively young. As such, he could not even contribute to the economy of her family. So, Nakanwagi single-handedly raised her three daughters and son on land bequeathed to her by her parents.

Her daughters and son did not go far with education. One still lives with Nakanwangi and her five grandchildren. She works as a cleaner in the city. With no special skills or education to boast of, the best her children can aspire for are odd jobs.

Even her eldest grandchild's dream is measured - he hopes to become a truck driver when he is of age. When asked about her son, Nakanwagi hesitates. It seems to bother her, but she won't say.

Although poverty stricken, Nakanwagi cannot send her daughter or grandchildren away, for that would go against the grain of culture. She is stuck with them, yet their future looks bleak and ominous. A vicious cycle of poverty is at play in the life of Nakanwagi and that of her offspring.

Her parents lived as squatters on the land where she was born. When they passed on, that is all she received as an inheritance.

Nakanwagi is lucky that when her landlord decided to sell off the plot of land on which she had lived all her life, he allocated her and two other squatter families' small plots of land on the fringes of the property. This is where she has since lived with her extended family.

Nakanwagi is representative of thousands of other grandmothers across the country without a social security safety net. Out of Uganda's projected population of 40 million people at least 1.4 million are above 60 and qualify to be called elderly.

Majority of them are women who have since become grandmothers or great grandmothers and yet still have to shoulder the burden of raising their grandchildren or great grandchildren often with limited or no support at all.

As the clock ticks towards 2030, the deadline set for attaining the 17 Sustainable Development Goals (SDGs) crafted by the UN, top on the agenda is the eradication of poverty. Nakanwagi like thousands of other elderly women of her age live below the poverty line on less than $1.90 a day.
She neither has an income to speak nor does she have the necessary resources to forge a meaningful livelihood.

Although the Government has a national social protection policy through which it has since rolled out the Senior Citizens' Grant under the Social Assistance Grant for Empowerment scheme, (SAGE)not all districts, including Wakiso where Nakanwagi lives are covered.
In the beneficiary districts, persons above 65 years of age (and 60 in the case of the Karamoja region) are given a sh25, 000 monthly cash grant. Between 2010 and 2015 the scheme was piloted in the 15 districts of Amudat, Apac, Kaberamaido, Katakwi, Kiboga, Kole, Kyankwanzi, Kyegegwa, Kyenjojo, Moroto, Nakapiripirit, Napak, Nebbi, Zombo and Yumbe.

The donor funded project is supported by the UK's Department for International Development, Irish Aid and UNICEF. During the five-year pilot period at least sh99.2b was paid to 123,153 beneficiaries in the 15 pilot districts. And the good news is that poverty levels in these districts dropped by 0.3%.

For the 2015 to 2020 phase of the programme, the Government committed to avail sh149b, while the development partners pledged £67.8m (over sh331.3b) in support.

Although the second phase of the Expanding Social Protection Programme will see five new beneficiary districts added every financial year till 2020, Nakanwagi at the moment stands no chance of being considered because Wakiso her district is not on the list.

Yet, the success of the scheme has already engendered the support of Parliament, which passed a resolution in 2017 to roll it out countrywide. Of course, it is not automatic that the resolution will be implemented immediately owing to competing fiscal demands that the Government must address concurrently.

So, for the moment Nakanwagi and others like her continue to live marginally in a fairly prosperous neighbourhood, but in obscurity.

Her nutrition and that of her grandchildren is at best poor. The potatoes boiling on the three-stone oven constitute their staple food. Nakanwagi considers meat or fish a luxury, because she cannot afford it. When she falls sick, she says she uses herbs because she cannot afford the cost of treatment at a health facility.

Her greatest concern is the future of her grandchildren. She does not want them to suffer the wrath of poverty like she has over the years.
Everything she does, she says is for them, but with virtually no resources or limited support the burden is too heavy to bear single-handedly, she says.
What had been her security against hunger was razed to the ground in an instant. Even the borehole from which she fetched clean water was dislodged.

The real estate company went ahead and subdivided the land, built access roads, brought in piped water and electricity to the area. This was development. They sold off the plots of land at a huge profit and more affluent people moved into the area.

It soon became a community with perimeter wall fences, people who spoke English and drove Japanese cars. But Nakanwagi has no access to the piped water or electricity.

Across the valley, however there was a flicker of hope for Nakanwagi in form of the vast land at Kabanyonlo farm which belongs to Makerere University.

The land was fallow and fertile. Although it was fenced off, she spoke to somebody, who knew somebody of influence and was eventually given access to a small patch of that vast land to grow seasonal crops like beans and maize, at a fee, which was illegal. Even then, access to that land was of no comfort to her, because she still had no security of tenure.

Every morning, apart from Sunday, she trudged through the new estate with a hoe over her shoulder accompanied by her grandchildren, equally weighed down by the hoes they carried to cultivate their new found garden, her only hope for survival.
This year however, she was ordered to stop cultivating the university land. Nakanwagi is worried, and rightly so. In the past, in addition to gardening she used to rear chicken, but not anymore.

With no definite source of income, she wonders if she will soon afford a basic meal a day. Yet, she is not alone, there are thousands of grandmothers across the country fighting for survival like Nakanwagi, all they need is some form of empowerment or support to unlock their productive potential despite their advanced age.
Unfortunately, with the way the economy is structured, it does not work for them, but the privileged. Together with her kind, they have been pushed to the fringes of survival. They live hand-to-mouth and for them every day is a miracle.

Government policies tend to mean nothing to Nakanwagi, because of her dire circumstances. She says nobody has ever consulted her or sought out her opinion on any subject concerning her plight. She is obscure and just another statistic in the poverty index. Although the government in principle offers free primary and secondary education, none of her grandchildren are beneficiaries.
In fact, Jordan Ssenabulya her 17-year-old grandchild who is in senior one is currently at home. Nakanwagi has failed to raise sh200,000 towards his school dues. She carries a heavy load and sees no end to it. So, who will bail her out of poverty as we head towards 2030?

The writer is a journalist.