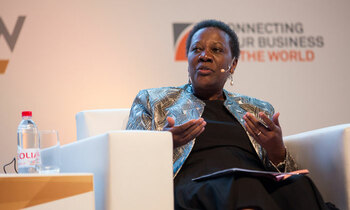 OIL EXPLORATION CONVENTION BIDDING
By Edna Mubiru

Uganda is set to announce the second competitive oil exploration bidding round that will see new fields opened up in 2020.

"We are going to announce the new bidding round in March 2019 at the East African Petroleum Conference and Exhibition in Mombasa. We are now preparing the data on the available oil blocks so that we share with the interested parties," Eng. Irene Muloni, the minister of energy and mineral development, said.

She made the remarks at the Africa Oil week happening at the Cape Town International Convention Centre yesterday.

"When we put the new petroleum laws in place, transparency, competitiveness were key and then law stipulated competitive bidding rounds. It is not first come, first served anymore. Competition will help us get the best," she added.
"So now we are putting together data to share with those interested. They can apply and we negotiate and come up with the best and they bring their money and we harness this resource."

The formal announcement calling for bids will start the process which is expected to bring in new players into Uganda's oil sector. Currently, Total E&P Uganda, CNOOC Uganda, Tullow Uganda and new entrants Oranto Petroleum and Armour Petroleum have interests in the fields.

Muloni says Uganda needs investors that have the financial muscle, expertise and experience.

Uganda's first competitive bidding round was finalized in 2016; Oranto from Nigeria and Armour Group from Australia got licences to explore two blocs in the Albertine Graben.

Oranto has a license to explore in the Ngassa bloc while Armour Energy has a licence for the Kanywataba area. The exploration licences are for four years and their activities started in 2017.

Uganda has 6.5 billion barrels of oil in place, of which about 2.2 billion barrels are recoverable. Infrastructure projects, such as an airport in the Albertine region and roads to support oil production are underway. The country is also planning an oil refinery that is expected to produce finished products for the East African region.