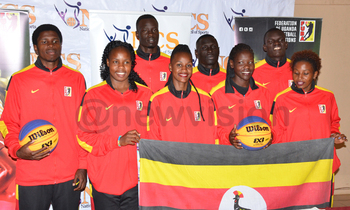 Basketball coach and coordinator of the 3x3 version of the sport Hamza Nyambogo is confident the national team has all that is required to get better results during the FIBA 3x3 Africa Cup due Friday to Sunday in Togo.

Nyambogo disclosed this at a media briefing before the men and women national teams were flagged off by NCS official Ivan Niwamanya at Lugogo Wednesday.

"We are ranked first in Africa, but what is important is that the players on our teams have got the exposure, skills and experience get results for us," Nyambogo stated citing Jamila Nasikombi who is ranked top on the continent in the 3x3 women basketball.

"In Madagascar, we finished third overall, but we learnt lessons of being patient and execution of game plans and I think this is the opportunity to bring results," he added.

Nyambogo explained that his confidence is derived from the consistency of players on the team having played in the U-21 tournament, Africa Cup and the World cup.

He explained that maintaining the same team is one of specialisation for players to gain exposure and then start delivering results.

The team that left yesterday will face a challenge from seventeen other countries that include Benin, Burkina Faso, Cape Verde, Ivory Coast, DRC, Egypt, Gambia, Guinea, Madagascar, Mauritania, Mali, Niger, Nigeria, Seychelles, Tanzania and hosts Togo.