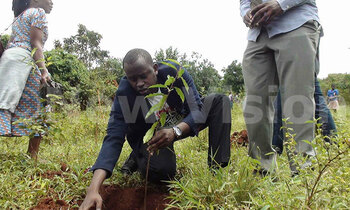 ENVIRONMENT
KAMENGO- In an effort to curb the rate of forest degradation across the country, the Ministry of Water and Environment and Ggoli Catholic Parish have kicked off a project to plant 800 Prunus Africana tree species on two acres of land in Kamengo, Mpigi district.
The land was donated by the Ggoli Catholic parish.
Officiating at the launch of the exercise at Ggoli Catholic Parish in Kamengo on Thursday, Senior forest officer, Bob Kazungu noted that since the 1990s, Uganda has lost 122,000 hectares of forest cover.
Primary school pupils preparing to plant trees to restore lost forest cover at Ggoli Catholic Parish. Photo by Noah Jagwe
He says on April 2007, cabinet designated four days; 12th August (International for the Youth), March 8 (Women's Day), March 21 -International day of Forests and May 1 (International Labour Day; for a nationwide tree planting.
"We agreed that tree species for planting is Prunus Africana," Kazungu said. Prunus was selected because of its multipurpose nature that includes conservation and medicinal values.
"When we cut down trees we cause climate change. We need trees to survive," Kazungu said.
Irene Kambeda, a senior forest officer for Mpigi district said the ministry has been working closely with district forest officers and youth organisations to increase awareness about the need to conserve forests.
Senior forest officer, Ministry of Water and Environment, Bob Kazungu speaking to locals at Ggoli Catholic Parish Kamengo,Mpigi district. Photo by Noah Jagwe