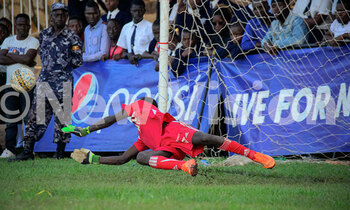 Kampala University's Daniel Kigambo saves a goal Pic by Badru Katumba
SPORTS
Mpigi-Two time champions, Kampala University (KU) is through to the finals of the seventh edition of Pepsi University League after edging St. Lawrence University 2-1 at its Crown City home, in Mpigi.
This which was after a magnificent comeback following a defeat in the first leg last week at their home in Namboole which ended at 2-1 in favor of St. Lawrence University.
Oryem Simon Tabu, who plays for St. Lawrence University put the University, who are also the hosts ahead in 11."
KU's captain, Aleper John Bosco scored twice in 12" & 40th minute, which forced the tie into penalties.
KU won the penalties 6-5.
Kampala University students in a celebratory mood. Pic by Badru Katumba
Daniel Kigambo, KU's goal keeper dived to his right and saved Balyebakyi Hudson's penalty kick which threw his team into a mode of jubilation.
"It's our time and we are determined to win the trophy this season. We have a strong team that has been playing together for the entire season.
"They know what to do and they are hungry to take this year's trophy," said KU's Aleper John Bosco, also the man of the match who scored two goals that brought a tie between the two teams.
Disheartened St. Lawrence players look on after losing the match. Pic by Badru Katumba
KU will face Kyambogo University in the finals on November 11, at the Mandela National stadium in Namboole.