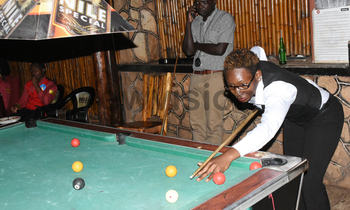 Pool Indigo ladies have turned their focus on the prize money that the top three teams in the Betway Pool League get at the end of the season.

Team captain Faith Amina Nganda disclosed this after her side defeated hosts Hotpool 8-7 in a league game at Catalina Bar in Ntinda on Wednesday.

"We cannot win the league, but this win has helped us move to the top three positions for the prize money and that is where our fight will be in the remaining games," Nganda stated.

"It was good for us that we won the game with a bonus point to go level with Ronz Club which was in the third position, now we just have to go and prepare well for our next games."

In the men's category, Hotpool beat Indigo 12-8 and action continues on Sunday with CKI hosting sinkers at Club D'Arena.