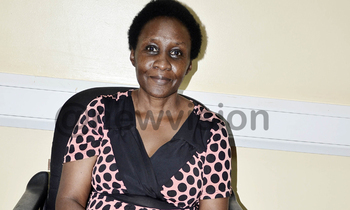 Elsie Luswata looks calm and collected, but behind that composed face, is a woman who has passed through so much pain to survive breast cancer.

It was in November 2014, that Luswata, a teacher by profession felt a swelling on her right side breast.

"I had gone to take a bath when I felt a lump (bean like swelling) on my breast on my right breast, but I was not bothered," she recollects.

Nonetheless, Luswata talked about the lump with her sister who advised her to go for a breast cancer check. This is when the unease kicked in.

Luswata waited until the last week of December to go for the test. She needed money to go to the Uganda Cancer Institute (UCI)

"I was very shocked when I was told I had breast cancer, the news took me by surprise. Never in my life had I imagined I would ever have cancer" she says.

"I did not have a clue; nothing showed that I had breast cancer. The lump was just a surprise and shocking," she adds.

Luswata's family was shocked too. "I had many thoughts; I thought I was going to die like my mother at 50. I was making 50 when I got diagnosed with breast cancer," she remembers.

Though Luwasata's mother did not die of breast cancer, she died at 50.

"I thought I was going to suffer the same fate, die at the same age of 50," she says.

But her family encouraged her, "they told me I can go through the diagnosis and live on" Luswata says.

"I knew I had to go for the test and I also knew if I had cancer, I had no option but to get treated otherwise I would die so I decided to go for checkup," she adds.

Breast cancer is the most highly diagnosed cancer in women worldwide, but in Africa, Uganda inclusive it comes second after cervical cancer.

Getting support

According to Luswata, the only option she knew she had upon getting diagnosed with breast cancer was to go for treatment.

"We had never had cases of cancer in our family. Mine was the first. The cases of cancer were with distant relatives, uncles, but not immediate family.

Luswata had expected her employers to be understanding of her condition but that was not the case.

"I had worked for them for seven years and never done anything wrong or gone off-track. I did a good job at the school.

But here I was very sick, I missed only two lessons because of the side effects of treatment and I got sacked," she says.

Luswata had just come out of her leave and treatment when she got sacked me.

"My leave had just ended and I had also just completed treatment. I was weak and I overslept, the drugs were taking its toll, and I had a sore mouth. I was very surprised when my employers treated me like the way they did and told me to resign my job," she recalls.

"I tried to get another job after fully recovering but in vain. My family helped me, they were very supportive they never left me; I also still had money I have saved from work," she says.

Luswata was also lucky to have her friend Margaret Okello a former teacher who was equally diagnosed with breast cancer and overcome it, come to her rescue.

She would give me whatever little money she had to spare to spend and counseled me through my journey with breast cancer.

Luswata also drew her inspiration to survive breast cancer from Okello. She has lived on for 15 years after her breast cancer diagnosis.

Getting treatment

After all the tests were conducted and they confirmed Luswata had breast cancer, she had to undertake six rounds of chemotherapy. Luswata had the first three rounds of chemotherapy and then got operated on.

She explains the treatment is detailed, it takes time and she had to lose her breast. "Luckily for me I was told to skip radio therapy, the machine was down at the time, but it can bring some terrible side effects.

I had a mastectomy (removal of breasts) I lost one breast the one to the right, then underwent another three rounds of chemotherapy," she reveals.

Luswata was fortunate to be given an artificial breast by the Uganda women's cancer support organization. Now she is on hormonal therapy which is the final phase of treatment that takes five years.

However the challenge for her during chemotherapy was that some of the drugs were not there at the UCI pharmacy, "I had to buy the drugs," she says.

It's also exhausting for a patient to hope around from drug shop to another trying to find drugs to bring them to the cancer institute during treatment," she says.

The expense is a real challenge even now that I am on hormonal therapy. Since I have no stable job, it is expensive, my sister steps in once in a while but it is a big challenge," she says.

She even tried herbs when diagnosed with breast cancer but when she talked to friends they discouraged her "even on food supplements," she says.

"It's better to get the right food to support cancer treatment herbs don't work quite well with treatment at UCI," she adds.

Luswata has completed three and half year of her hormonal therapy. "I have one and a half years of this therapy to go to be declared cancer free," she says.

Coping with cancer

Luswata says she has learnt to be patient with people in her sickness. "Sometimes people do not treat you the way you would like them to when sick.

But you have to accept this disease is not going away soon so you have to be patient. The doctors always make it a point to attend to everyone "With this care, you cope," she says.

If Luswata could go back to the time before she was diagnosed with the cancer, she would eat differently.

"I would have a different diet and do more exercise, I believe it is the best way to prevent cancer from occurring," she says.

She observed the importance of food when her brother who had dealt with cancer patients changed her diet.

"The chemotherapy did not affect me so much like it affects others, I lost my hair but it grew back after the chemotherapy," she says.

"I ate plenty of fruits, ate fish instead of red meat and cut off food with so much oil. I am certain our lifestyle and what we feed on is causing all these growing cancer cases including cancer of the breast.

All I can say is be very careful with your diet especially if you are over 40 years of age and if you can, do exercises everyday so that the body fit and not prone to cancer," she advises.

According to the World Cancer Research Fund International, as early diagnosis and treatments for breast cancer improve, women are not only surviving the disease they are surviving for longer.

It says Investigating whether lifestyle factors could play a role in improving survival rates is also becoming increasingly important.
RELATED STORIES
Men also develop breast cancer
Breast cancer third biggest killer of women! Men can get it, too!