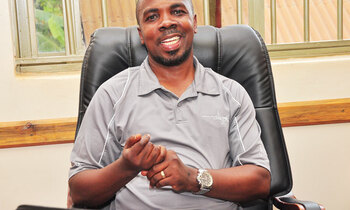 Pastor Daniel Kaggwa of The Sign of the Dove Churh, Zzana, Entebbe Road
It would not be long before his death, or so they thought, and some probably hoped.

The ill three-year-old, John had lost his mother to AIDS. It was evident that he, too, was HIV positive. He had a severe rash, diarrhea, was frail and his cries were inaudible. He was not only facing the ravages of the deadly HIV, but also the challenges of inadequate care or no care at all.

John's relatives had few resources and found it difficult to look after an additional child. Some were afraid they would catch the disease.

Care for orphans is among the challenges faced by societies, like Uganda, affected by widespread HIV. Children may be taken in by extended families, but could also be sent to orphanages or left to fend for themselves.

Daniel and Erica Kaggwa, both church ministers, carried the boy to the orphanage run by the couple, His Embrace, where he lived for two years. But a trip to the United States persuaded them that, however admirable the work of an institution, the best place to raise an orphan was in a home.
Pastor Daniel Kaggwa at Dove Church Zzana
All the institution's orphans found families except John. Who was going to adopt an HIV, sickly looking boy?

John is among 95,000 children living with HIV in Uganda, according to the Uganda Population-Based HIV Impact Assessment (UPHIA), a household-based national survey, conducted by Ministry of health from August 2016 to March 2017 to assess the progress of Uganda's national HIV response. It also found that 64,647 of those children were being treated with ARVs - anti-retroviral drugs.

The country has about 2 million orphans, mainly living in orphanages or foster homes, down from 2.4 million, or 15 percent of the child population in 2005/06, to 11 percent now. Many remain in orphanages.
John's life improved little after two years at His Embrace. Adoptive parents were reluctant to consider him because of his frail appearance and a longer stay could well have placed his life in danger.

But David and Cathy welcomed the boy into their home.

"John looked terrible. His feet were infested with jiggers. I had never seen a child with a skin so rough," says Cathy, as she gently wipes her tears.
Cathy and David, the parents of John
Cathy is a kindergarten teacher, while her husband David earns a meager income from transporting people on his motorcycle. They have four biological children.

Cathy says that when all the other healthy orphans were welcomed into families, she chose John, because she knew exactly what he needed - unconditional love and care.

"I lost my parents to AIDS. They were not given treatment and no one took care of them until they passed on. When I saw John, I knew that if he took his medication religiously and had a caring loving family he would not die like my parents did," she says.

"A child with John's condition requires utmost care and time, which caregivers in orphanage cannot offer because of the numerous children they have to take care of."

When they took John in, her husband was a milk seller. Their assumption was that, with proper nutrition, his health would turn around.

He was enrolled into school, took his medication and a year ago was told by a pediatric HIV counselor that he carried the virus. "He seemed to have taken it well and kept taking his medication. However, around April this year, he changed. He would keep the medicine under his tongue and spit it out in my absence," says David.

The last doctor's visit showed his health was deteriorating. He confessed that he was tired of being the sole child at home taking medicine regularly.

His parents listen to his fears every day - unlikely in an orphanage, with few caregivers and so many children.

"We encourage him and tell him that he will grow into a great man despite his sero status," says David.

With John now 13, his parents have kept his status a secret from siblings and friends. At school, only the head teacher knows.



In the conflicts that brought Yoweri Museveni to power 1986, civilian death tolls were high and there was an upsurge of orphans. Many NGOs emerged with the mission of taking care of children.

Most opted for creation of orphanages, still the biggest child care model.

According to the Ministry of Gender, Labour and social development, Uganda has more than 1,000 orphanages, though only 83 are registered. Most orphanages are run by NGOs or church-based organisations. Virtually no church is without a child care ministry.

His Embrace was started by the Kaggwas, pastors at the Dove Church on Entebbe Road in Kampala, and it took on more than 20 children from deep in the villages of Lwengo district, 150 miles from the capital.

It provided basic needs -- food, shelter, medical care and entertainment -- and took the children to school. But during his trip to the United States, Daniel Kaggwa met a couple running a project on adoption and concluded that children do not thrive in orphanages.

He learnt that the best care for orphans could only be given at home, where a child's emotional, physical, social and basic needs are met. That institutions do not give the necessary love, identity, belonging and an assurance of inheritance.

Within three months of his return to Uganda, he called on church members to take in the children.

Joy Tumwesigye, a family counsellor with Uganda Prisons, says caregivers in orphanages lack the zeal of a family with a genuine interest in the child's development,

"Relationships between adults and children in the orphanage are usually superficial and brief, with little warmth and affection," says Tumwesigye.

Quiet, moody or sickly children are ignored by staff. An outgoing child receives more attention and responds more positively.
Joy Tumwesigye
"Orphanage life does not provide children with the quality of life, or the experiences they need to be healthy, content, fully functioning adults. In orphanages, the child's needs are secondary to the requirements of the group routine," the counselor emphasises.

Uganda ranks sixth among countries with children available for adoption, according to a 2013 study by USAID, entitled The state of the Ugandan child.

In the early 1990s, Uganda's HIV prevalence was at more than 30%, which greatly contributed to a rise in the number of orphans. The prevalence has been reduced to about 7% due to mass sensitization, antiretroviral therapy and prevention measures. Conflicts have been all but eliminated since 2000 and reduced death tolls and improved medical care have cut numbers.

Grace is not as lucky as John. She has no family to take her in.

Four years old and HIV positive, Grace lives with Aida, a social worker who takes care of more than 20 orphans in Bunamwaya, south of Kampala.

"We got Grace through a friend who was working with a health care center. Grace's mother was stranded, ill with AIDS and had nowhere to keep her baby. She did not know who the father was. Early this year, she passed away," Aida says.

Aida says the children often have three meals a day, sometimes reduced to two when funds run low.

"Grace has a healthy appetite and usually after a meal, we notice that she wants more food, but we are not in position to give her more because of the fund constraints," Aida regrets.



She says adoption would have been the solution for Grace, but there are no willing parents.

Esther Kangave, a counselor at Baylor Uganda, a health facility that offers health care to HIV positive children, says 65% of HIV positive children are orphans.

"These children depend 100% on their guardians when it comes to adhering to medication," she notes.

She says girls without proper care engage in sex when they become teenagers. "A number of these girls get pregnant and when we ask why, they say they wanted money from the men," she adds.

Kangave says that HIV positive teenagers often face stigma and need love and acceptance from parents.

To protect children from acquiring HIV from their mothers, women are advised to take ARVs during pregnancy to reduce their viral load. The babies of HIV positive mothers receive nevirapine to reduce their chances of catching HIV.

Currently, there are no clear statistics of the number of HIV positive orphans living in orphanages.

Assistant commissioner for children James Kaboggoza says children growing up in institutions lose the meaning in their life. In a family, they learn how to love, how to live with one another and to assume their duties to become responsible citizens of tomorrow

"We encourage Ugandans to open their hearts and homes to children who have no families and make a place for them within their own family," he advises.

The Ministry of Gender, Labour and Social Development is engaging founders of orphanages countrywide to review their operations.

As is Pastor Daniel Kaggwa, now head of Uganda Without Orphans, an NGO calling for adoption and foster care.

"It is something new to Uganda. A lot of explanation has to be done. Some people think it is not possible to adopt all children in the country, others think we have money to give to adoptive parents. But those who have listened to our messages, they have lived them and they are encouraging church members to take the call," Kaggwa says.

"We believe we can have a Uganda without orphans."


This story was produced by New Vision. It was written as part of "Reporting Vulnerable Children in Care" programme, a journalism skills development programme run by the Thomson Reuters Foundation, in partnership with UBS's Optimus Foundation. Content is the sole responsibility of author and publisher."