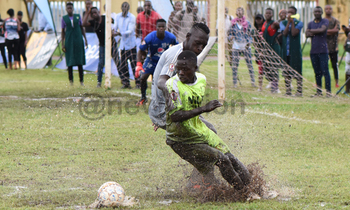 Semifinal First leg results
Kampala University 1 SLAU 2
Kyambogo 2 Bugema 0

St. Lawrence and Kyambogo Universities have both set a foot each into the finals of the Pepsi University Football League, following convincing semifinal first leg victories against KU and Bugema respectively.

At Namboole's outer pitch on Friday, Ogwang Isaac's brace for St Lawrence University was enough to ensure that his side goes into the second leg of their semifinal against Kampala University with a 2-1 lead.

Kampala University looked the stronger of both sides when they took the lead in as early as the fifth minute through Omirambe Brian's spot kick after the referee had spotted a handball.
Kampala University's Moses Ojoaza and St Lawrence University's Abdulaziz Ssekabira
In form SLAU striker Ogwang, who now has six goals in the competition then levelled matters from a free kick in the 22nd minute, before he doubled his tally nine minutes later with a powerful shot from outside the box to give the Rubaga side the lead that they clung onto for the rest of the game.

Ogwang has now scored three crucial goals in two games following his extra time goal against YMCA that ensured his side's passage to the semifinals.

Meanwhile, Kyambogo came out of their long awaited fixture with Bugema on top following a 2-0 home win.
St Lawrence University's Isma Kalyanswa and Kampala University's Shamir Kimwero tussle for the ball
With the fixture having been postponed twice due to a strike and a heavy downpour, the game was finally played on Sunday afternoon.

Goals from Sekidde Robert and Ashaba Racmac scored in the 40th and 70th minutes were enough to hand the hosts one foot in the Finals scheduled for 10th November at Namboole.