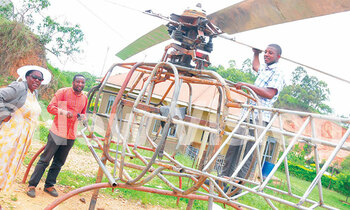 INNOVATION
BUSHENYI-Some people fear to invest in the unknown, but two men in Bushenyi district are in final stages of building/assembling an aircraft.
Abel Bishoni, 48 and David Namurinda, 38, of Bushenyi town, have been investing their little resources in building/assembling the helicopter since March.
"At the stage where we have reached, we do not need any technical advice because we shall build it up to the end," Bishoni says.
However, their plan to surprise the nation has been bogged down by lack of funds to purchase an engine, windows, doors and working on the interior.
"Seventy percent of the work is complete, but we have been hindered by capital," Bishoni said. He added that they require about sh40m to realise their idea of getting their six-seater plane onto the market.
Bishoni and Namurinda were on Saturday meeting the Minister in charge of General Duties in the Office of the Prime Minister, Mary Karooro Okurut, who visited their workplace.
The two are appealing to the Government and well-wishers to support them so that their work is completed.
"The Government should support our innovation because there is no country which can develop without going through research trials of such technology," Namurinda said.
They told Karooro, who is the district Woman MP, how they have tried to reach the relevant government ministries seeking advice and support in vain.
BUSHENYI
"All the people, including the minister for Science, Innovation and Technology, Dr Elioda Tumwesigye, failed to understand our idea thinking that it is not achievable," Namurinda said.
The innovators are appealing to President Yoweri Museveni to intervene and support them.
"This is going to be our contribution in making our country realise Vision 2040." Also seeking to see the President are 20 local associations in Bushenyi who have petitioned the office of the resident district commissioner (RDC) complaining of marginalisation.
The associations include those of butchers, taxi drivers, youth, cattle traders and mechanics.
"We also have ideas we want to discuss with our President, but we are always sidelined," Richard Nkyeire, the co-ordinator of the associations, said.
Nkyeire led the associations' representatives on Tuesday who handed over their joint petition to the RDC Peter Mugisha and the district chairperson, Jaffari Bassajjabalaba.
They also want the district leadership to allow them meet the President. "Let him see new faces of people with new ideas," Nkyeire said. Bassajjabalaba cautioned the group against putting too much pressure on the Government.