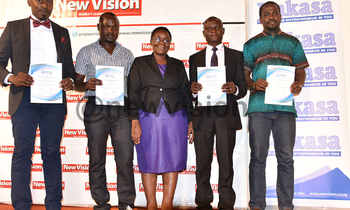 Vision Group Editor-in-Chief, Barbara Kaija (center) poses with outstanding performers
Winners of the 2018 Pakasa Youth Awards, a national entrepreneurship competition will be announced at a Vision Group breakfast at the Golden Tulip Hotel in Kampala today.

Over 200 young entrepreneurs across the country were nominated in the competition sponsored by the Chinese Embassy in Uganda. More than 30 stories of successful young entrepreneurs were published in Sunday Vision and across other Vision Group platforms between August and October.

According to judges who led the process of picking the winners, the competition was tight as more Ugandan youth are getting innovative.

"When the winners are announced, one thing will be certain, they will all be individuals who have made profitable business out of nothing," said one of the judges, John Walugembe, the Executive Director of the Federation of Small and Medium Enterprises-Uganda.

Walugembe said those who will emerge winners are young entrepreneurs who stepped into the unknown to make a difference in society through their innovations.

To select the winners, the Pakasa Youth Awards judges looked at innovation, social impact, compliance to regulations and community involvement among others.
Launched in 2015, the Pakasa Youth Awards seek out exemplary young entrepreneurs from all over the country to nurture a spirit of entrepreneurship among the youth.

This year 200 nominees were received and of these 30 were profiled in the Sunday Vision. It is from this group of 30 that the winners will be selected.

Walugembe said the selection process was rigorous and the focus was on business and not personality.

The top five winners will win a one week fully paid for trip to China and another 10 will be awarded certificates of recognition.

Now in its fourth year, the Pakasa Youth Awards aims to change the mind-set of young people to embrace entrepreneurship as viable source of income, in the wake of rampant youth unemployment.

"When we take the winners to China, they will be able to get first-hand experience on how young people start their own businesses.

They will also look at how young Chinese entrepreneurs have managed to become self-employed for more inspiration," The head of political affairs at the Chinese embassy in Uganda Fang Yi disclosed in an earlier interview.

To qualify for nomination, one had to belong to the category of a Small and medium scale entrepreneur aged between 18 and 40 and not pursuing farming as an enterprise.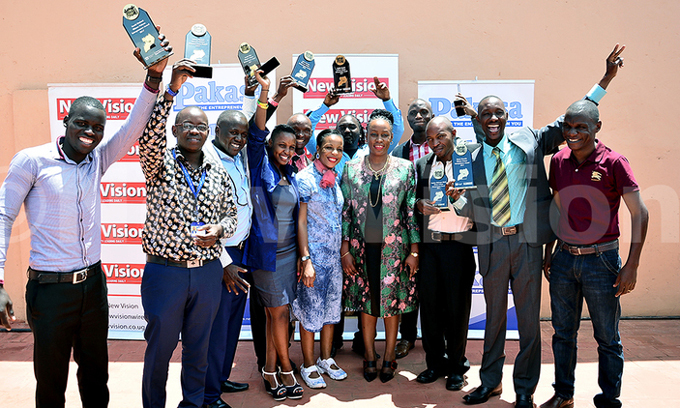 Florence Nakiwala Kiyingi (centre)Minister of State for Youth and Children Affairs with some of the former winners of the Pakasa Youth awards
The enterprise had to also follow proper business practice, have books of account, be registered and also meet the following criteria;

Impact on society by providing a service or product solving a community need, and creating job opportunities as well as forging partnerships.

Have linkages with other sectors/players in the economy; take advantage of (appropriate) technology to innovate, where applicable; contribute to the young entrepreneur's livelihood; show that it started humble and register progressive growth every year and have solid plans for growth (scalability).

The business also must have been a formal business and contributing to the economy through taxes and employment.

And the qualifying business must also have had evidence of an organizational structure, marketing/promotion of the enterprise and successful penetration of the products/services in the market.



Also related to this story

New Vision, Makerere University launch Pakasa Forum 2018
Youth eager to learn from Pakasa Forum
Pakasa Youth Awards 2018 launched: Winners to travel to China