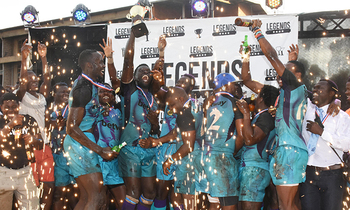 Uganda Cup Final
Pirates 14 Kobs 20
"It does not matter how many times you fall, but how get up is the most important."
Those were the words of Black Pirates tactician Bob Musinguzi commenting on his team's 20-14 defeat by Kobs in the Uganda Cup final on Saturday.
"We just did not have players on the bench to replace our pack, but we are going to look into how we recruit and come back in the league," Musinguzi said after the game.
"Definitely we will be back and whoever thinks that we are weak should wait for us in the league," Musinguzi added.
Trailing 14-8, Kobs applied a physical game, taking advantage of a stronger pack and managed to score a try through Ivan Kirabo as well as a penalty and two conversions by man of the match Adrian Kasito.
Pirates took an early 6-0 lead courtesy of two penalties by lock Joel Anguyo before James Ijongat scored one himself for the game to go into halftime at 6-3.
In the second half, Kobs regrouped and mounted more pressure but Pirates added a penalty and try through Anguyo and Musa Muwonge to stretch the lead to 14-3.
Kobs replied with a try through Adnan Mutebi and Ivan Kirabo before Kasito struck to seal the win.
Kobs coach Fred Mudoola attributed his team's victory to having a superior pack.
"This is 15s rugby and the strength of the pack contributes a lot and that is why we managed to overcome Pirates. As their pack wore down, we brought on fresh boys to pound more pressure and we won," he added.
Meanwhile in the shield trophy, Jinja Hippos defeated Makerere Impis 19-6.