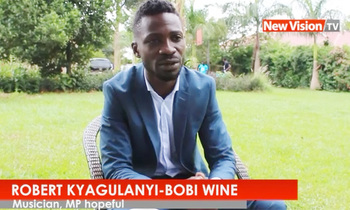 Kyadondo East MP Robert Kyagulanyi is on the hit list. Photo/File

The group of people whose names appeared on the death hit list of a yet to be identified gang this week have accused Police of not 'doing enough' to help them and they have started taking matters in their own hands to stay out of harm's way.

A document bearing 16 people on the assassin list was reportedly dropped on Wednesday at Lubaga MP Moses Kasibante's home.

The list contains Buganda premier Peter Charles Mayiga, Kyadondo East MP Robert Kyagulanyi aka Bobi Wine, and Kampala Minister Beti Kamya.

Others on the list include Sheikh Matovu (a Muslim leader), Sadam Lukwago (a city herbalist), Siraji Bakaleke (the embattled former Kampala South Regional Police Commander) and Patrick Onyango (Deputy Police spokesperson). Also on the list are Mukyala Bucyana, Muhammad Nsereko (Kampala Central MP), Sheikh Kibaate (deputy supreme Mufti), Erias Lukwago (Kampala Lord Mayor) and Prince Nakibinge (Buganda prince/ Muslim leader) and Kasibante.

Rashid Lukwago, visibly panicked after he was admitted to hospital suffering from shock, said: "I am not a politician; why do they want me dead?" It is the second time this year that he is receiving threats to his life. The first time, the threats were sent to him via SMS, and he said he had been forced into hiring guards. However, the sh800,000 a month for their services was more than he could afford and he was forced to discontinue their services, he said.

Still waiting for police

Kasibante said he is still waiting for police to show up at his home and investigate the matter. "Natete Police Station, where I reported the matter told me they will send me a detective but up to now I am still waiting," he said.

Kasibante told New Vision; however, he would go to Parliament and raise the matter about the rising criminality. "Insecurity cuts across all spheres of life. Whether you are a wheelbarrow pusher or Member of Parliament; we are all affected," he said.

Patrick Onyango, the deputy spokesperson, who also appeared on the list, said Police had enhanced his security. "I am listening to their instructions. They are telling me places where to move and where not to move," he said.

But Gerald Karuhanga, the Ntungamo Municipality MP, said he would not waste his time with the Police. "I have left the matter to God because I don't have hope in the Government," he said.

Karuhanga, who is appearing on the assassin list for the second time, says he has not been helped in the past when he reported the matter to the Police. In September, an unknown person sent the legislator a threatening SMS message. The SMS sent from 0789391991 read "Musaazi afude, gwe Odako." Translated loosely, it meant "Musaazi has died; now you are next."

He said despite comprehensively briefing the Police, he has received little support. "It is useless running back to police," he said.

Kibaate, who is also receiving death threats for the second time said, "When I reported, the Police told me the message was sent through a number registered to a two-year-old child. I am confused. They (thugs) are not telling me what I did wrong."

Rising crime

The development corresponds with an upsurge in criminality in the city in the last few months. The latest is city business man, Archie Rwego, who was killed early this week in presence of his wife in a horrifying incident at Najjera, a city suburb. Rwego, a sales manager at Boma Tile in Industrial Area in Kampala, was stabbed 10 times and killed at his home by armed robbers after they broke into their family home as they slept.

Onyango, however, advised those affected to approach the office of IGP (inspector general of police) for help.

He said the Police have already started investigations into the matter. "Our intelligence have started gathering information. Very soon they will come up with a report," he said.

Emilian Kayima, the police spokesperson, said police is "handling the matter strategically and operationally."