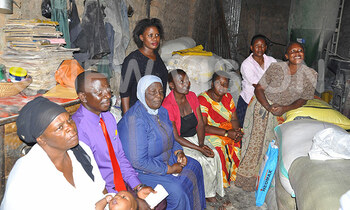 The Minister of Gender, Labour and Social Development, Janat Mukwaya on Thursday traversed Kampala district to monitor government-funded women and youth projects as part of her ongoing monitoring exercise in the central region.

Kampala so far has 489 funded groups which have benefited from over sh4.8b.

The minister visited 12 youth and women groups under the Youth Livelihood Programme (YLP) projects and Uganda Women Entrepreneurship Programme (UWEP) projects.

The multibillion shilling initiatives are government funded programmes targeting the country's unemployed-poor youth and women.

A total of sh265b was approved for the Youth Livelihood Fund for a period of five years (2013-14 to 2017-18).

These included Kyebando Typical feeds women's project, Kikaaya B women poultry farming project, Mulago II Katale women 's restaurant and outside catering, Upper Nsooba Mulago III youth metal works, Kazo Angola central youth bakery and Kikaaya Ddungu youth poultry.

Others are Bulwa munno mubyana women's events groups, Ndeeba Kayanja youth united auto parts, Najja I women's poultry project, Quarter zone youth carpentry project, Kabowa Wankulukuku saloon women's project and Busega kigwannya youth fish traders.

The Minister was pleased by the group members, especially women who disclosed that they have so far benefited though they incur some challenges.

Agnes Nabisubi of Bulwa munno mubyana women's group in Rubaga division in Kampala told Mukwaya that they have purchased plots of land, built permanent houses and can also contribute to the school fees of their children, among others.

Shamirah Nalubega of Ndeeba Kayanja youth united auto parts explained to the minister that since getting the Government fund, their spare business has grown to heights.

"We have gained a lot and expanded our business with the Government fund and urge youth and women to embrace entrepreneurship in order to fight unemployment," she advised.

Mukwaya said the fruits of the Uganda Women's Entrepreneurship Programme (UWEP) and youth livelihood program, channeled through the Ministry of Gender, Labour and Social Development are very evident, with more groups making big strides in fighting poverty among women and youth in Uganda.

The excited minister, urged woman to avoid being extravagant but use the profits they make from the projects to provide for their families.

She also promised to order for more funds to support the flourishing groups, but cautioned men against sabotaging government programmes through disorganising women groups.

Rubaga division mayor, Joyce Ssebugwawo urged the groups to use the various revolving funds from the Governments to start and build businesses.

"I urge the two groups to come up with diverse and viable ideas so that they benefit from this government fund. This will improve their livelihoods and subsequently the economy of the whole county," she said.

Kawempe deputy mayor, Ismail Ntale noted that in the past, such funds had not been used to the maximum and were returned unused and asked more groups to register and take up the money.

"We don't want the money to be returned. The money that has been disbursed to Kawempe division should be borrowed by any of the qualified groups," he said.

He urged the Government to consider raising the loans' ceiling adding that the funds may fail to achieve their objective if the matter was not addressed.

Although disbursement of the fund was still at its initial stages, he noted, there was a need to have more money allocated to the various groups so that they can achieve their targets.

Mukwaya was accompanied by Rubaga town clerk Moses Ssempa, KCCA director gender Harriet Mudondo, and project manager youth livelihood, Happy James Tumwebaze, among others.