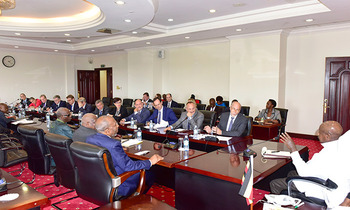 President Yoweri Kaguta Museveni has urged the European Union (EU) to support Uganda's efforts to relocate people from wetlands and forests and avert environmental degradation and landslides.

"When Hon. Kuteesa was at the UN, I tasked him with fundraising for this cause. We want to remove people from the wetlands. He raised US$22 ( about sh82b). Support us to relocate these people," the President said, adding that the recent landslide in Bududa district has woken up the population there and now they are ready to move.

Museveni and the EU delegation on Wednesday held their annual political dialogue meeting in accordance with Article 8 of the Cotonou Partnership agreement and forms part of regular political dialogue between Uganda and the EU on global, regional and national issues.

The EU Ambassador to Uganda H.E Attilio Pacifici, who led the delegation had earlier condoled with the President and the people of Uganda following the landslide disaster in Bududa district in which over 55 people are confirmed to have perished and hundreds displaced. He said the EU has already availed maps of Mt. Elgon from their world satellite to gather more information.

The delegation included Heads of Missions of Austria Gunter Engelits, Belgium Hugo Verbist, France Stephanie Rivoal, Ireland William Carlos, Italy Domenico Fornara, Germany Albrecht Conze, United Kingdom Peter West, Poland Jacek Bazariski, Czech Republic Pavel Rezac, Netherlands Henk Jan Bakker, Sweden Per Lindgarde and Majbrit Holm Jacobsen the Charge De Affairs of the Danish Embassy.

The President and the Ambassadors talked about regional issues such as security in South Sudan, Somalia and Democratic Republic of Congo, climate change, trade and investment climate among others.

Museveni called upon the ambassadors to encourage their companies to invest in Uganda citing that there is need to create employment for the youth. He assured them that he is handling the issue of the Uganda Investment Authority to stop the infighting for investor confidence.

The EU delegation commended Museveni and the Government of Uganda for the commitment towards finding peace in the region to facilitate trade and development and hospitality towards the refugees.

The meeting was attended by the Prime Minister Dr Ruhakana Rugunda, Minister of Foreign Affairs Sam Kuteesa, Minister of Finance Matia Kasaijja, the Attorney General William Byaruhanga, Minister of Security Elly Tumwiine, National Resistance Movement (NRM) Secretary General Justice Kasule Lumumba and other senior government officials.