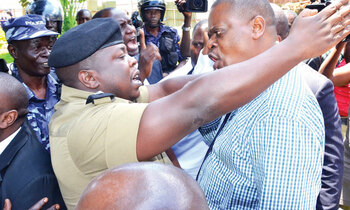 A press conference by People Power activists on Tuesday ended prematurely after Police halted the event on the invitation of the management of Bativa Hotel where it was being held.
According to the Kampala Metropolitan Police spokesperson, Luke Owoyesigire, the management of the Wandegeya based hotel notified Police after the organisers said they hadn't permitted the gathering to happen.
Led by Wandegeya Police commander, Godwin Ochaki, Police instructed the activists led by the People Development Party (PDP) president, Abed Bwanika, to immediately vacate the hotel gardens, alleging that management was not aware of their presence.
"Do you know how many times we have hosted our activities here?" Bwanika asked officials at the hotel.
"We were not aware that these were members of People Power. The management invited us to intervene after the group breached the agreement. They had agreed on only five people, but the number surged to over twenty five on top of many journalists, prompting the management to get concerned," he said.
Bwanika retorted: "They want us silenced. We called this press conference to address ourselves on the alarming increase of state brutality, torture, violence and targeted maiming of victims."