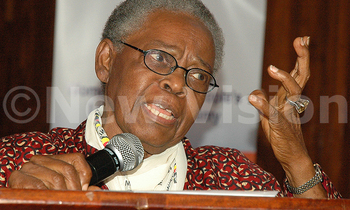 OBITUARY

SARAH NYENDWOHA NTIRO: 1925 - 2018

Humble, intelligent, committed and composed, Sarah Nyendwoha Ntiro is credited with uplifting the women of Uganda.

She is believed to be the first female graduate in East and Central Africa. But that alone is not her claim to fame. It is what she did after she graduated, a rare achievement then, that defines who she is.

Ntiro was instrumental in making sure women earned salaries equal to those of men. She was at the time (1955) a teacher at Cayaza High School, having graduated from Oxford University with Bachelor's in History the year before.



When the colonial Government tried to pay her less than her male counterparts with the same academic qualifications as she had, she rejected the salary and decided to teach without pay.

It is said the wife of the then Governor heard of Ntiro's protest, and intervened. The issue was pursued and she was permitted to receive a salary equal to that of men, setting a precedent that has stood for almost 60 years.

Before going to Gayaza High School, Ntiro was a teacher at Kyebambe Girls SS from 1950 to1951.

She is also recognised for her contribution in the starting of the Teaching Service Committee, which came to be known as the Education Service Commission and has been instrumental in promoting education in the country.

She did this during her time at the education ministry, between 1965 and 1967. She also worked in the office of the Vice Chancellor, Makerere University between 1970 and 1978.


It is not only in the area of education, however, that Ntiro made a mark. She also contributed to the country's politics as one of the first two African women members of Uganda Legislative Council from 1958 to 1961.

As a young student at King's College Budo, Ntiro excelled in Mathematics and was one of the first six girls to be admitted to Makerere College, now Makerere University, according to the Women of Uganda Network.

While other female students were offered non-core courses tailor-made for women, she was enrolled into the mainstream, which at that time was a male domain. She became the first female, not only to be mainstreamed, but also to study Mathematics in a class of 32 that had a male-female ratio of 31 to 1.

When Ntiro reported for her first class, the tutor asked if she thought she was visiting "a maternity ward." But she ignored him and took her seat. According to the Women of Uganda Network, the tutor walked out in protest vowing never to teach Maths again unless she withdrew. Ntiro yielded, more in consideration for her fellow classmates than the tutor. She then settled for History, Geography and English.

She paved the way for women to pursue higher education - that has now become a highway of opportunities for Ugandan girls and women. It is not surprising that females now overshadow males in numbers, when it comes to certain courses at Makerere University, where Ntiro, was a loner decades ago.


As a result of her achievements, she is recognised as a 'Woman of Distinction/ by the Forum of African Women Educationalists Uganda. The accolade is given to outstanding women leaders, strategically positioned to promote girls' education by their achievement and status.

There is now an 'Annual Sarah Ntiro Lecture and Award' event in honour of Women Achievers who overcame obstacles facing girls' education and went on to become mentors and an inspiration to many girls and women. The inaugural lecture and award event was held on December 12, 2000.

The Sarah Ntiro Lecture and Award is an advocacy tool meant to inspire girls to excellence in education and women's leadership by celebrating the trail-blazer achievement of other achievers in East and Central Africa.

Ntiro got married in 1958 to Sam Joseph Ntiro, a Professor of Art at Makerere. They met at Makerere when she was a student and when she returned from Oxford they met again. Ntiro recalls: "He asked me to marry him. I accepted his marriage proposal. We led a good life until he died a natural death. We had two sons."

(Source : Building the Nation)
Camilar Aliker (left) and President of Benett college for women Washington, Johnneta Cole, who were presented with certificates of model of excellence at the presentation of the Sarah Ntiiro Award at Hotel Africana on June 1 2005. (Credit: wilfed Sanya)
Female youths Leaders chat with Dr. Ntiro after her address at the launch of the Girls2Leaders Movement at Pope Paul Memorial Center Rubaga on January 22, 2009. (Credit: Maria Wamala)

Also related to this story

East and Central Africa's first woman graduate dies