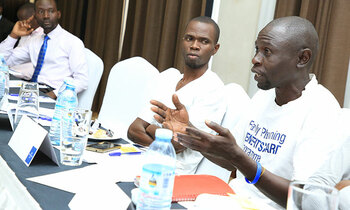 PIC: Barriers to family planning include long distances to facilities, the cost, lack of knowledge and the high stigma associated with access to family planning services by the youth
HEALTH
Having medical insurance and using a benefits card to access services has been proven as a way of increasing the uptake of family planning services by the youth in low-income urban areas (slums).
The conclusion was reached after a study conducted in Kalerwe and Kifumbira (both Kampala slums) by GHE (Global Health Economics) Consulting, a health research firm.
The study set out to investigate whether using benefits cards was an incentive to increasing access to comprehensive family planning services for the youth in urban areas.
Janet Babigumira, a research consultant at GHE Consulting, discloses that under the study project, the firm was awarded funding through Grand Challenges Canada's Stars in Global Health program in 2016.
The funding was meant to support the development of an incentive-based programme to increase uptake and reduce unmet need for modern family planning methods among the youth (18 - 30 years) living in low-income urban areas like slums in Kampala district.
She noted that their focus was on family planning for the youth because family planning is a key sector in promoting the economic growth of the country and it is critical in the achievement of the sustainable development goals.
She added that family planning uptake among the youth is very important because Uganda has a very young population with 50% of the people under 15 years and 75% under 25 years.
Minister Kaducu and Commissioner Nsungwa checking on a mother in Kamwenge. Teenage pregnancy is said to decrease according to education level
In addition, the country has a high teenage pregnancy rate at 25%. Therefore, there is need for sustained access to family planning services so as to reduce fertility.
Challenges faced include the fact that the unmet need for contraception are still very high and jeopardize the rights of girls and women to have a safe, healthy and productive life.
She noted that the fast growing population, the high rate of unwanted and teenage pregnancies, in addition to limited access to services are clear evidence that concerted efforts and substantial investments are urgently needed to meet the needs and growing demand for user-friendly and youth-friendly services.
Causes of limited access to family planning
Elly Nuwamanya, a research analyst at GHE Consulting, noted that they set out to pilot the project after evidence showed that young people face barriers in accessing family planning tools and services.
Information from the health ministry shows that such barriers include long distances to facilities, the cost, lack of knowledge and the high stigma associated with access to family planning services by the youth.
Other issues are unfriendliness of the health workers, limited variety of family planning methods, long waiting hours, stock-out of commodities and fear of side-effects.
Others are partner's disapproval, religious/ cultural beliefs that discourage people from uptake and lack of other sexual and reproductive health services such as treatment of STDS at the facility.
As a result of the above challenges, there is a high unmet need for contraception among the youth in Uganda, which leads to unplanned pregnancies (resulting in unsafe abortions) and sexually-transmitted infections (STIs).
Use of health card
Babigumira explains that the programme was designed based on an insurance model where a premium was charged for every beneficiary.
However, she adds that through funding from Grand Challenges Canada, the premium was paid by the project and the recruited participants received the cards for free for a period of six months.
The card allowed the beneficiaries to access family planning services, HIV/AIDS services (counseling, testing, guidance, referrals and follow-up treatment) in addition to pregnancy testing and follow-up care.
Nuwamanya explained that the effectiveness of the card was assessed using a controlled study where some group received the card and another group did not receive the card. He said the group that received the card was in Kifumbira, a slum in Kamwokya, a Kampala suburb; and the control group was in Kalerwe, another slum area.
The two areas are assumed to be of similar social demographic statistics.
Nuwamanya disclosed that the recruited participants were followed up for a period of six months to assess if there were any changes in contraceptive uptake and unmet need for child spacing.
In addition, the study also assessed the acceptability and usability of the card services for the first six months.
Findings of the study showed that the using a health card was highly acceptable with 93% acceptance rate.
The cards were used for injectable contraceptives (39%), contraceptive pills (29%) and implants (17%). The findings tallied with the UDHS (2016) which showed that injectable contraceptives were the most popular means of family planning at 20%.
Among other services provided by the card were pregnancy tests (61%) and HIV tests (34%).
Use of card increases contraceptive uptake
Presenting results from the assessment study in Kampala recently, Nuwamanya disclosed that use of a health card was highly effective in increasing contraceptive uptake and reducing the unmet need for child spacing.
Results show that modern contraceptive use increased from 34% to 50% among the people who were given the card; and declined from 46% to 44% in the control (those not given the card).
In addition, unmet need for child spacing declined significantly from 55% to 40% in those given the card, and from 38% to 37% in the control group.
The study also discovered that the satisfaction index (a measure of satisfaction with family planning services) increased significantly from 24 to 28 among those that had the card, but reduced from 24 to 23 in those who did not have the health card.
Other findings
Nuwamanya noted that the study also showed that:
Overall, contraceptive use was higher among the married (48.3%) than the single (34.6%). Contraceptive uptake is poor among single people and those who have never given birth because of misconceptions and fear of assumed side effects
Awareness of family planning was also positively related with increase in contraceptive use.

Short term methods of family planning were preferred over long-term. This could be due to the fact that the participants in the study were still young and seeking to grow their families.

Fewer men go for HIV testing and counseling.
Teenage pregnancy decreased with education level

No education 42%

Primary 36.5%

Secondary 25.9%

Secondary plus 10.3%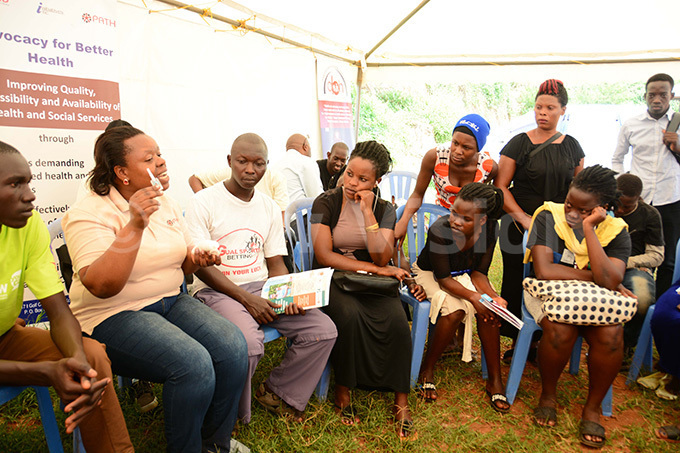 An official from PATH talks to the youth on how to avoid early pregnancies
From the above findings, the research team concluded that having an insurance card was an incentive to attract the youth to access family planning services.
Gaps noted
However beneficiaries noted that in addition to family planning and HIV/AIDS services, the cards also needed to have covered testing and treatment for other sexual and reproductive health conditions such as STDs.
Way forward
Dr. Frank Asiimwe, a clinical research associate at GHE Consulting, noted that as we transition to scaling up the programme, there is a plan to expand it to all urban youths in Kampala district.
This is in addition to extending the programme to cover all sexual and reproductive health services. On the issue of affordability of the services, he noted that there is a need to make the cards subsidized or free.
Nuwamanya also added that there is need continue carrying out sensitization about family planning so as to increase people's awareness and address misconceptions that limit people's uptake.
He urged policy makers to allocate adequate resources for sexual and reproductive health and create an enabling environment for service delivery and accessibility
Related stories
Why investment in family planning is a must