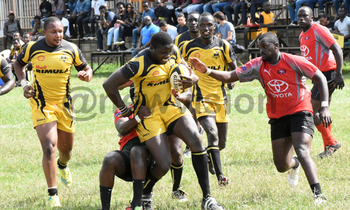 Quarter-final results
Heathens 27Rams 3
Mongers 16 Kobs 18
Pirates 18Warriors 13
Rhino 15 Buffaloes 26
Semifinal fixtures
Kobs v Heathens
Buffaloes v Pirates

Last year's top four teams in the Uganda Cup again made it to the semi-final of this year's edition of the same championship.

What has changed is the pairing with Hima Cement Heathens facing Betway Kobs, while Black Pirates take on Toyota Buffaloes.

Last year, Heathens hosted buffaloes and defeated them 3-0, while Pirates edged Kobs 23-22 in tightly contested fixture.
To get into the semis, Heathens smashed Rams 27-3 at Kyadondo and Kobs narrowly survived the Plascon Mongers with 18-16 win in the quarter-final fixture played at the House of Pain ground in Entebbe.

Defending champions Black Pirates defeated Dusupay Warriors 18-13, while Toyota Buffaloes saw off Shell Rimula Rhinos 26-15 at Legends Rugby Club.

Saturday semi-final promises to be a mouth Watering clash as the Kobs who last won the Uganda cup trophy in 2012 are eyeing it this year same as Heathens.

On the other hand, the Black Pirates are confident they can defend their title and coach Boby Musinguzi says his team should not be judged on the poor show put up in the quarter-finals against Warriors.