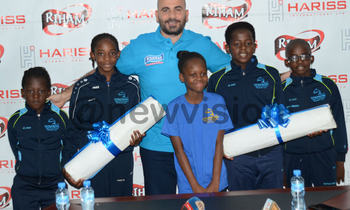 Harris International Chairman Ahmed Yasser (back) poses with Dolphins swimmers L-R: Shana Mwesige, Nanette Nsereko, Ader Amara, Lionel Agaba and Nathan Nsereko who presented him with gifts before the team travelled to Mombasa for the KSF National Short Course championships, October 13 2018. PHOTO: Michael Nsubuga
The Dolphins Swim Club will be looking for another dominant display when they compete in the 80th edition of the Kenya Swimming Federation (KSF) Short Course National Swimming Championships at the Oshwal Academy in Mombasa, October 19-21.

The team that performed well over the long course at the Kasarani pool in Nairobi in March will not be short of experience when they compete in Mombasa.

The Dolphins who leave on Tuesday will look to inspiration from the likes of siblings Tendo Mukalazi and Kirabo Namutebi, Ben and Joshua Kaganda as well Darren and Jordan Ssamula who have picked valuable experience from competing in various foreign competitions over the years.

Other swimmers travelling include: Samora Byansi, Karimah Katemba, Hannat Nakimuli, Shane Birungi, Swagia Mubiru, Siima Byansi, Hayyan Kisitu, Jordan Ssetumba, Mikka Kigundu, Arthur Tayebwa, Zaabu Kyabayinze and Lionel Agaba

The rest are Arthur Tayebwa, Shafique Abdullateef, Paulsen Ssetumba, Montel Nahamya, Malcolm Nahamya, Tendo Kaumi, Pendo Kaumi, Ethan Kiggundu, Stallone Andriatsitohaina, Siima Byansi, Freda Luzinda, Mary Grace Banona and Kirstie Kansiime

Some of the team members on Saturday paid a courtesy call to their sponsors Riham to get blessings before they left for the annual championship. The team also donated gifts to Harris International Chairman Ahmed Yasser who was in the company of director Ahmed Hassan and public Relations Officer Rachael Luwedde, who received the gifts before promising them more sponsorship.

"It is a pleasure to have sponsored the Dolphins for over five years, our priority is to promote education and sports so that we can create a country with better people," Yasser said.

"It is good to see Dolphins winning outside the country and also continue to encourage those with talent to reach far. Sports helps you stay health and fit that is why we encourage it; most of our products have been supported by the youth the reason we are also giving back and are soon spreading countrywide," Yasser stated.