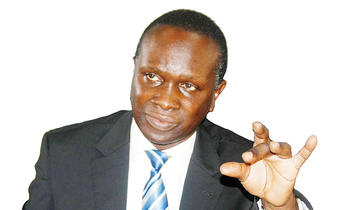 By Daudi Migereko
Uganda celebrated World Tourism Day on September 27 in Jinja. Gen Moses Ali, the First Deputy Prime Minister re-presented Rebecca Kadaga, the Speaker of Parliament of Uganda. In attendance was the Ssubi Kiwanda, the Minister of Sta-te for Tourism, Wildlife and Antiquities, Hugo Verbist, the Ambassador of Belgium to Uganda representing development partners and other Government officials. Below is the edited speech of Hon Daudi Migereko, the Chairman of the Uganda Tourism Board.
Rt.Hon.Gen Ali-1st Deputy Prime Minister representing Rt. Hon. Rebecca Kadaga, Speaker of Parliament of Uganda.
Hon Ssubi Kiwanda-Minister of State for Tourism, Wildlife and Antiquities,
Amb. Hugo Verbist - Ambassador of Belgium to Uganda representing our development partners,
Senior Government and Local Government Officials,
The Leadership and Management of UTB, UWA, UWEC, NFA and other Government Agencies,
The Leadership and Members of Uganda Tourism Associations,
The Kyabazinga Institution,
Security Officials,
Stakeholders from the Private Sector, NGOs, Ladies and Gentlemen.
You are all welcome to this year's World Tourism Day. We thank Government, the Ministry of Tourism, Wildlife and Antiquities, the leadership of Jinja District and Municipal Council for agreeing to host this year's celebrations here in Jinja, next to the source of the River Nile.
We appreciate the collective support of all of you which has enabled us to register a good level of organization, good exhibitions and excellent turn-up.
World Tourism Day is rotational. Last year we were in Kalangala and prior to this, we were in Mbale, Mbarara, Lira, Fort Portal etc. The idea is to take tourism to the people but also to tap the best in terms of tourism from the local communities from the regions. More importantly, this day gives us an opportunity to reflect on what we have been doing in the last one year with a view to identifying gaps, areas for improvement and introduction of new products and ideas.
So far, our figures for tourism have been increasing; standing at close to 1.4 million tourists for 2017 and contributing US$ 1.4 billion in foreign exchange earnings and about 8% of our GDP. Our target is 4 million tourists and this is achievable provided we maintain peace and tranquility, follow through our plans, prioritize investment in the sector, take advantage of the digital era and ensure posi-tive media country coverage.
We are working with our embassies and missions abroad to promote and market our destination. Government has also provided re-sources to engage public relations and marketing firms to buttress this work in USA, Canada, Germany, Austria, Switzerland, UK, China, Gulf States, India and Japan. Training of our managers and workers to communicate in the requisite languages, prepare cuisine and to appreciate foreign visitors' culture is in-going both here and in the selected countries.
On the domestic front; religious and cultural tourism has picked up with the Uganda Martyrs pilgrimages at Namugongo, Janan Luwum Day in Muchini, Bishop Hannington Day in Mayuge and Imbalu circumcision standing out. The Tulambule campaign has drummed up the need and importance of Ugandans knowing, experiencing and enjoying what different parts of the country have to offer. Education institutions and the young people have responded positively to this campaign. We thank UWA and UWEC for the affordable accommodation and transport put in place to cater for some of these tourists.
Working with CEDP, MTWA, Immigration Department, UBOS, UWA and UHOA, software is being introduced to accurately capture pertinent data in the industry.
This year's theme is tourism and digital transformation. It brings to light the reality of the importance of information technology in the area of tourism. For instance, the touristic attractions from the different parts of the world can be relayed to a potential tourist instantly on his/her phone, Ipad, laptop, television screen, etc. The ease with which information is accessed to compare and contrast; destina-tions, weather pattern, security, safety, pricing, quality of services, cultural practices, press reports, etc, requires that we must work hard to ensure that whatever we have to offer can compete with the alternative competing destinations globally.
As such, digital transformation has become a major determinant of our visitors from the international source markets, regionally and domestically.
The Ministry of Tourism, Wildlife and Antiquities (MTWA) working with us at UTB, UWA, and UWEC together with the urban, lo-cal authorities and the private sector will have a duty of identifying, designing, developing and showcasing sites of touristic attrac-tions. Given the speed at which information is shared in this digital age , the sites of touristic attraction must meet acceptable interna-tional standards in order for Uganda to be competitive and attract the desired number of tourists.
There is therefore a need for Government, financial institutions and the private sector to invest more in improving and developing our touristic attraction sites. They should not be left to remain in the form they were passed on to us by nature or our forefathers. These sites need utilities, accommodation facilities, eating/ resting places, entertainment areas, sporting places, theatres, etc.
Similarly, a program to address enhanced accessibility of the surroundings and ambiance of the identified tourist sites must be put in place. The return on investment has in most cases been positive and many jobs have been created in the process.
It is along these lines that we commend the Indian Prime Minister Rt. Hon. Modi and President Yoweri Museveni for the decision tak-en to allocate considerable resources towards improving the Source of the Nile through the Mahatma Ghandi Convention and Cultural Center project. We look forward to the timely implementation of this project. These developments will blend well with the iconic new Nile Bridge which is soon to be commissioned.
This increased investment will enhance our capacity to handle tourists and enable us to benefit from accruing economies of scale, cre-ate greater efficiency and offer a diversity of tourism products.
This will bolster our ability to become more competitive and offer affordable products to the different classes of tourists.
The Ministry of Tourism, UTB, UWA, AUTO, Universities (MUBS and Makerere University in particular) cultural institutions, schools, sports fraternity, the Hotel Training and Tourism Institute and all of us stakeholders have for the last one month been in-volved in various activities aimed at promoting this year's World Tourism Day, whose theme is "Tourism and Digital Transformation."
Discussions to put Uganda's tourism on the right trajectory have been taking place and most of the activities we have had have fo-cused on this. We thank you for participating and the sponsors for the generous support extended to these events.
As we prepared for the World Tourism Day through the Tulambule programme, we had to publicize the touristic attractions in Jinja, Buikwe and Busoga.
The Source of the Nile, Lake Victoria, the Kyabazinga cultural sites, Itanda Falls, local hotels, etc., have received many visitors and attracted good publicity.
The above touristic attractions put together with our game parks, mountain gorillas, birds, mountain climbing, meetings and confer-ences, will greatly boost the list of tourist attractions Uganda has to offer.
Tourism is everybody's business; individuals, homesteads, companies, local governments, the country and world; all benefit from it. I would therefore like to appeal to local and urban governments to main-stream planning and development of tourism resources in their areas, mobilize people to participate in tapping into this resource and marshal the business community to invest locally. This can be lucrative business for the companies and a steady revenue source for the urban, local and central governments.
This will easily happen if we can keep peace and tranquility all over the country. This will also happen if we can focus on the cleanli-ness and hygiene of our tourist facilities and if we can all market our areas and country positively whenever we get the opportunity to do so. All we need is to be creative, be ready to invest and give the necessary publicity to these attractions. That way we shall achieve greater success , attract more visitors, register higher income figures and transformation of our areas and country.
At UTB, we have been undergoing restructuring and re-organization in order to attract desired competencies that will ensure we mar-ket the country more effectively. The new team will be reaching out to you for collaborative, promotional and marketing programs. Please, give us support.
For God and My Country.
Writer is the chairman of the Uganda Tourism Board