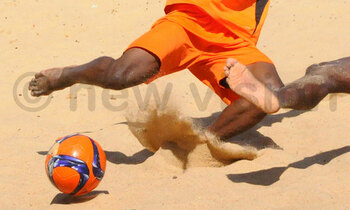 National Beach Soccer League

Results

Men

Bishop Stuart 4 Buganda 6

Mutoola 4 Mubs 7

Entebbe Sharks 4 Bishop Stuart 6

Talented 6 Nkumba 3

KIU 5 St Lawrence 4

Women

Talented Ladies 0 Muteesa 7

Katuuso Community 5 Triplets 1

Nkumba University suffered a major setback in the National Beach Soccer League over the weekend when they went down 6-3 to Talented Beach Soccer Club at Lido Beach, Entebbe.

Johnson Onyekachi notched a hattrick before Michael Kisembo, Shafik Mubiru, Godfrey Kalibala added the other goals for Talented. Fahad Nsubuga, Shafic Kimbowa and Isaac Otto each had a goal for Nkumba.

Elsewhere, KIU defeated St Lawrence 5-4, while Bishop Stuart beat Entebbe Sharks 6-4 before going down to Buganda with same result.

In the women category, defending champions Muteesa thrashed Talented Ladies 7-0, while Katuuso Community humbled Triplets 5-1.

This year's league will be played in three different venues and they are Mutoola Resort Beach, Lido Beach and Spennah Beach.

Allan Kayiwa guided Isabeti beach soccer club to the league title last season. Kayiwa notched a hattrick as Isabeti beat KIU 8-3 in the final to walk away with the trophy while Muteesa 1 Royal University were declared the champions in the women league after topping the table with 30 points.