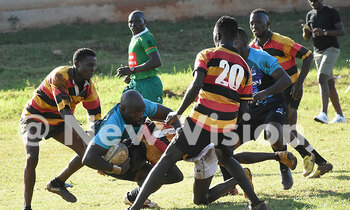 PIC: Walukuba players gang up on Kob's Kobonero (holding ball) during their Uganda Cup match in Jinja. Kobs won 71-10. (Credit: Johnson Were)

UGANDA CUP

Quarterfinal fixtures

Rams v Heathens

Kobs v Mongers

Pirates v Warriors

Buffaloes v Rhinos


For the last decade, games between Mongers and Kobs have always been a mouthwatering duel.

For that matter, Kobs assistant coach Edmond Tumusiime has cautioned his boys against complacency when the two side meet once again this Saturday for the quarterfinal of the Uganda Cup.

"Yes, we had good game today with a convincing 71-10 win over Walukuba but that should not be a yardstick to relax when we meet Mongers," he said after their victory in Jinja on Saturday.

"We are aware that Mongers are a fighting team, but we have identified the areas of concern to polish within the course of the week. So, expect a good game."

In the Jinja contest, Conrad Mukwaya scored four tries, Edwine Ssempebwa two while Davis Kiwalabye, Robert Aziku, Enock Muhire, Isaac Tago and Humphrey Magero each scored a try.

James Injongat added eight conversions.

For Walukuba, Paul Kalungi managed a consolation try and Paul Bwire a conversion and penalty for the hosts.

"We tried our best but it was a learning game for us as we prepare for the league," Walukuba coach Leo Lubambula said.

In other games, Mongers thrashed Busitema 165-0 to cruise to the last-eight.

Rhinos beat Soroti rangers 97-0, Pirates whipped Mbale Elephants 76-17, Buffaloes beat Impis 41-3 and Warriors defeated Stallions 35-12 to advance to the quarterfinals on Saturday.

Pirates are the Uganda Cup defending champions.
Uganda Cup results

Mbale 17 Pirates 76

Stallion 12 Warriors 35

Kyambogo 0 Heathens 134

Impis 3 Buffaloes 41

Rams 20 Hippos 17

Walukuba 10 Kobs 71

Busitema 0 Mongers 165

Soroti 0 Rhinos 97