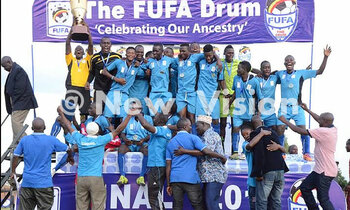 PIC: Buganda province are the inaugural The FUFA Drum champions. (Credit: Drake Ssentoongo)

THE FUFA DRUM

Final: Return leg result

West Nile 1 Buganda 1
(Buganda win 2-1 on aggregate)

ARUA - Viane Ssekajugo enjoyed hero status as Buganda province won the inaugural edition of The FUFA Drum football competition.

Ssekajugo, the eventual man of the match and most valuable player, struck eleven minutes to normal time to level matters and put Buganda on course to winning the two-legged final.

Greenlight Stadium erupted into one-sided celebrations at the final whistle as Buganda beat West Nile 2-1 on aggregate to claim the maiden title.

The inter-province championship featured 16 teams from across the country.

Buganda went into Saturday's return leg with a slender one-goal advantage and, playing away, were faced with a formidable task in Arua.

West Nile squandered several goal-scoring opportunites and only found a breakthrough four minutes before the break through Villa Oromchan.

The BUL FC attacker's fierce header from a Rashid Okocha cross sent the home crowd into jubilations. But injuries for Geriga Atendere and Rashid Toha in the second half proved a thorn in West Nile's side.

It remained a tight contest until towards the end of 90 when Ssekajugo equalised for the visitors.
Champions Buganda received sh32m as cash prize while runners up West Nile walked away with sh15m.

Buganda Kingdom sports minister Sekabembe Henry, cultural leaders from Ringa, Alur, Lugbara and FUFA president Eng. Moses Magogo were some of the guests that attended the final.

All semifinalists and quarterfinalists in the competition each walked away with sh5m and sh4m respectively, while those who finished third and fourth in the group stages earned sh1.5m and sh1m each.

Outstanding individuals including the most valuable player (MVP), top scorer, best coach and fan and best eleven each received sh1m. James Alitho of Bugisu province was the topscorer with eight goals.

Individual awards

MVP - Viane Ssekajugo
Top scorer - James Alitho (8)
Fair play - Acholi province
Best coach - Alex Isabirye
Best Fan - Banana Joe (Acholi)


Best XI:
Nicholas Ssebwato (Buganda), Geriga Atendere (West Nile), Dan Bilikwalira (Buganda), Rashid Toha (West Nile), Raphael Komakech (Karamoja), Ramathan Dudu (Bunyoro), Julius Poloto (Bukedi), David Bagoole (Busoga), James Alitho (Bugisu), Allan Kyambadde (Kampala),Viane Ssekajugo (Buganda)