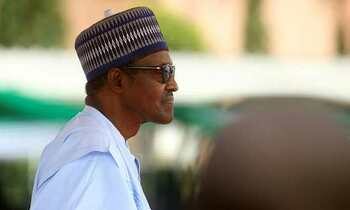 Nigeria's two main political parties met Saturday to pick their nominees for presidential polls scheduled for February 2019, as political heavyweights jostle for position to challenge President Muhammadu Buhari who is seeking a second term.
Next year's presidential race appears to have tightened in recent months with Buhari's ruling All Progressives Congress (APC) party hit by a wave of defections over the leadership style of the 75-year-old former military ruler.
Buhari, seen as an anti-corruption crusader in graft-tainted Nigeria, is due to be endorsed at a meeting of his party, which swept to power in 2015 with the first opposition victory at the ballot box in Nigeria's history.
But all eyes are on the dozen candidates who are vying to be nominated to challenge him from the opposition Peoples Democratic Party (PDP), the former ruling party.
Officials said at least 4,000 delegates from the 36 states and the capital Abuja were expected to vote at the PDP primaries in the oil hub of Port Harcourt, in the heartland of the Niger delta, in an event due to extend to Sunday.
Barring any surprise, the candidate will come from the Muslim-majority north, following an unwritten rule in Nigeria that the presidency should alternate every two terms between a candidate from the north and south.
'A very good convention'
The frontliners include former vice president Atiku Abubakar, who has has made four previous attempts at the top job, Senate president Bukola Saraki, governor of northern Sokoto state Aminu Tambuwal and Rabiu Kwankwaso, a former governor in northern Kano state.
Chairman of convention planning committee Ifeanyi Okowa, who is governor of southern Delta state, said all 12 contenders were still in the running.
"We are expecting a very good convention, we are working very hard to deliver a process that is credible, free, fair and acceptable," he said.
Port Harcourt streets were festooned with conference banners, while police said thousands of officers were being deployed to the event.
"Our warning to political thugs and other hoodlums is that they should stay away from the venue and even the entire state," state police spokesman Nnamdi Omoni told AFP.
Buhari indicated in April that he planned to run for a second term.
The retired general, who headed a military regime in the 1980s, has faced growing pressure to step down because of failing health after spending several months in London last year treating an undisclosed ailment.
Dubbed "Baba Go Slow" because he took six months to appoint cabinet ministers, he has also faced attacks for his handling of the economy, which plunged into recession in 2016.
He has also come under criticism on security issues, including the Boko Haram insurgency in the northeast, long-running farmer-herder clashes in the centre and militancy and kidnapping in the south.
But he is standing unopposed to run again at his party's convention in Abuja on Saturday.
"The fact that nobody came forward to challenge the President is an indication that the party members are satisfied with his performance and they want to see more of him in office," presidential spokesman Garba Shehu told AFP.
Nigeria's law allows for a president to serve a maximum of two four-year terms.