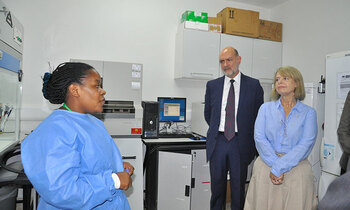 The United Kingdom government has provided Uganda with funds amounting to 5.1m pounds (approximately sh25b), meant to fight Ebola.

Ebola, a haemorrhagic fever that is currently ravaging the neighbouring Democratic Republic of Congo, is a highly infectious virus that causes fever, body aches, and diarrhea, and sometimes bleeding inside and outside the body.

As the virus spreads through the body, it damages the immune system and organs and ultimately causes levels of blood-clotting cells to drop, killing up to 90% of people who are infected.

However, while visiting the Uganda Virus Research Institute (UVRI) on Friday, UK's Minister for Africa Harriett Baldwin announced additional funds to be channeled towards tackling Ebola.

She commended the institute for the efforts it is making towards identifying and containing.

"Most topical at the moment is the outbreak of Ebola. The work that you are doing here is very important in terms of the quick turnaround of the diagnosis and finding out where the spread of the virus is happening," Baldwin stated.

"As you know, there is now an experimental vaccine for Ebola that has been deployed for the first time this year and the kind of work that is happening here is saving lives every day," she said.

Due to the prevailing outbreak of Ebola in DRC, Uganda has intensified surveillance and preparedness response in the high risk districts. Thermo scanners have been installed at Entebbe International Airport to screen all passengers coming in from DRC.