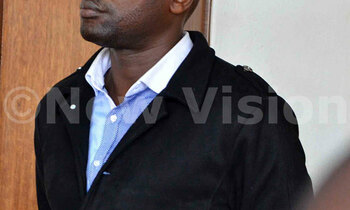 A Kampala prominent businessman, Tom Kaaya Kigonya, has been charged with obtaining sh2.2b by false pretence.
Prosecution alleges that Kaya between Feburary 2016 and June 2016 in Kampala with intent to defraud obtained sh2.2b from city tycoon Sam Buchanan by falsely pretending that he would sell him fully developed land at Mengo-Bulange, which he did not fulfil.
However, he was later bailed out by security minister Gen. Elly Tumwine, who stood surety for him alongside Joseph Luzige Kamya, the LC5 chairperson of Mityana district.
"I find the two sureties substantial and Kaaya should deposit in court sh7m to secure his release," Buganda Road Court chief magistrate, Sarah Babirye said.
Sam Buchanan (right) at Buganda Road Court
The sureties, whom the magistrate said would forfeit sh50m to the state if the accused disappears, deposited in court their national identity card and LC letters.
The magistrate also ordered Kaaya to deposit in court his original passport, despite pleas from his lawyers led by Nicholas Mwasame from Shonubi, Musoke and Company Advocates.
Kaaya faces charges of obtaining money by false pretence, forgery, and uttering false documents contrary to sections 305, 342, 347 and 351 of the Penal Code Act (PCA).
He is charged alongside Thomas Katumba Ssekiziyivu, 44; Francis Musisi Kayongo, 49, and Abdul Kasagga, 38.
Prosecution alleges that the accused on October 10, 2016 forged an addendum, purported to have been made as an agreement between Kaya and Buchanan.
It is further alleged that Kaya forged an acknowledgment of receipt of payment, purporting that sh2.2b was paid to Buchanan.
Kaaya's bail follows submissions from Mwasame who asked court to grant him bail on grounds that he is innocent until proven guilty.
"The accused is presumed to be innocent and has the right to liberty based on the Constitution," the lawyer submitted.
Mwasame also argued that the accused is battling offences which are bailable by court and that he had never appeared before any court of law in any criminal matter and charged.
He said the accused has a fixed place of aboard within the jurisdiction of court and that he will not interfere with investigations and influence witnesses.
"Investigations into the matter have been going on for two years up to this point, and Kaaya has never interfered with it that is why he is likely not going to interfere with the on-going investigations," Mwasame said.
He added "the applicant (Kaaya) brought himself to court when he learnt that the Director of Public Prosecution had sanctioned the file without a warrant or summons being issued against him. This is the conduct of a co-operative person who is interested in having the matter determined."
Meanwhile, state prosecutor Emilly Ninshimye had objected the grant of bail to the accused, saying his second surety Luzige presented in court a letter, where he is recommending himself, but the magistrate kept a deaf ear.
"Even if he is a district chairperson, other people can write for him a letter, indicating that he is a resident of Mityana and Wakiso district respectively," she argued