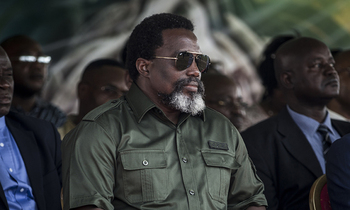 PIC: President Kabila attends a ceremony where he would burn one ton of ivory and pangolin scales on September 30, 2018 in Kinshasa to highlight the problem of poaching in the country. (AFP)

REGIONAL MEETING

Ahead of the highly anticipated elections later this year, Uganda will this weekend host a high-level security summit on the Democratic Republic of Congo (DRC).

The DRC President Joseph Kabila is expected to join his East African Community counterparts (Uhuru Kenyatta of Kenya, John Magufuli of Tanzania and Paul Kagame of Rwanda) for the meeting that kicks off on Saturday at Speke Resort Munyonyo.

The three-day Regional Oversight Mechanism of Peace, Security and Cooperation framework for the DRC will be chaired by President Yoweri Museveni.
President Museveni will chair the meeting


Frank Tumwebaze, the ICT and National Guidance Minister, last week told journalists that the summit is expected to draft various mechanisms towards the pacification of the war-torn country.

"Cabinet was informed and it noted that Uganda will host the 9th high level meeting of regional oversight mechanism of peace, security and cooperation framework for the Democratic Republic of Congo and the region," he said.

Tumwebaze added that the meeting is expected to emphasise and maintain Uganda's strong leadership in dealing with the issues of regional peace and security.

During the Kampala meeting, Tumwebaze said, leaders are also expected to commit to the neutralisation of negative forces in the region, restoration of peace, security and stability in the DRC and mobilisation of the region and the international community towards the pacification of DRC.

Facilitation of the DRC's economic progress is the other key element that regional leaders and international actors are expected to tackle during the Kampala DRC security summit.
Political tension within DRC has increased as citizens prepare for the December 23 polls.

Already, President Kabila has announced that he not will seek re-election, casting the race for presidency wide open.

The ruling party and Kabila have endorsed former minister, Emmanuel Ramazani Shadary, as their candidate.

Also related to this story

Kabila taps ex-minister to succeed him in polls