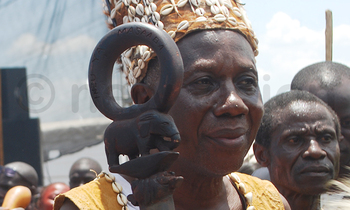 The Umukuuka (cultural leader) of Bamasaba, Bob Mushikori, has been dragged to chief magistrate's court in Mbale to answer charges of child neglect.
The case filed under number FCC 136 of 2018 and was served by Mulati Andrew c/o Luchivya and Co. Advocates on September 13 and is slated for hearing on Oct 3.
Mulati served the summon on September 26 and was received in the respondent's office by Grace Kayeki on behalf of Mushikori.
The documents in possession of New Vision indicate that the mother of the three-year-old at the centre of the case, Janet Nambuya, is being represented by Emmanuel Angura and Co. Advocates.
According to the documents Nambuya claims to be Mushikori's former partner and that they started cohabiting in 2013.
"As result of staying together we were blessed with one girl aged three years. We continued staying peacefully without any problem up to 2016 and relation broke down because of desertion," Nambuya narrated in her affidavit support.
She claims that Mushikori in 2016 locked out of their residential house in Bugisu Corporative Union Quarters and never allowed her and the child to return, and that since then, he has completely failed to provide for her and the child.
"Umukuuka has failed to provide maintenance and provide for our child. He does not pay fees, bills for medical care and feeding up to date," the document reads in part.
Nambuya says she has been struggling for upkeep of the child.
Emmanuel Angura who is representing Nambuya, said Mushikori was supposed to appear on Wednesday before grade one magistrate John Paul Wosawulo.
Angura in the company of Nambuya were at court by 9:00am on Wednesday for the hearing but found that the magistrate was not available because he had other engagements. A new date will now be fixed for hearing of the case.
Mushikori however did not appear at court without reason given and efforts to reach him on his known phone number were unsuccessful.